Humble Dystopian Bundle gives some good, grim games for cheap
Some interesting games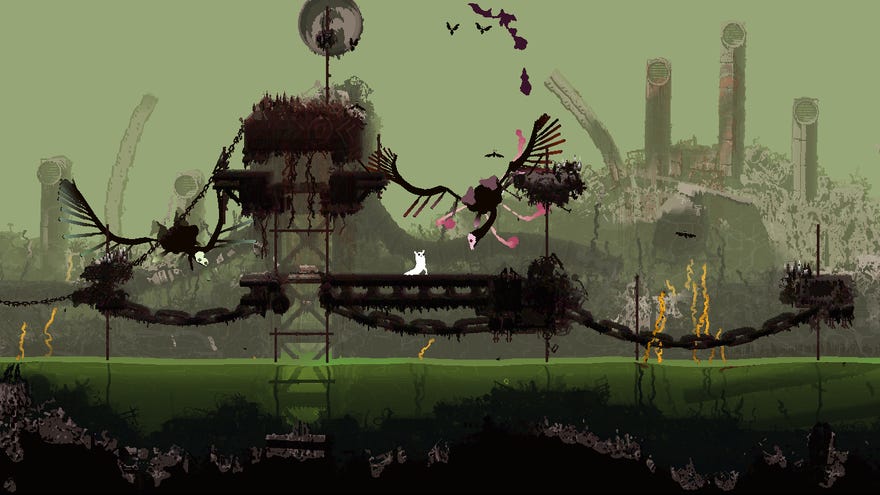 Everyone wants in our our (Post-)Apocalyptic Day, casting doom and gloom all over. First Bethesda launched Fallout 76 early to meet us, and now the latest bargain Humble Bundle packs a load of games with visions of the future ranging from 'society sucks now' to 'slug cats have replaced humanity'. Its theme is 'Dystopian' and its games are pretty deece, with some you'll not often see bundled up, including the wonderful/horrible Rain World and smashing cyberpunk first-person spooker Observer. Some good games for a good price.
As is the Humble Bundle way, the Humble Dystopian Bundle gives more games as you pay more, buying into higher tiers.
Pay anything and you'll get DRM-free versions of stylish isometric assassinate 'em up Tokyo 42 (which Alec's review says is yeah, alright) along with Orwell: Keeping an Eye On You, the first series of the computer surveillance game which our John quite liked.
Pay at least $1 and you'll get Steam keys for Tokyo 42 and Orwell too (and all the other bundle games), plus landlord surveillance game Beholder and Distrust, which is a bit like if John Carpenter's The Thing were a survival RPG. Yeah, not dystopian, but interesting.
Pay more than the current average price (which is $4.76/£3.68 as I write) to also get Orwell: Ignorance is Strength (the second season), the fascinating Rain World, and 60 Seconds, a game where you have one minute to ransack your house before eking those supplies out in your fallout shelter with your family (well, or without 'em). Rain World is a curious beast (read Brendan's review) with some very curious beasts (have a look if you require tempting) so it'll be good to see more people encounter it.
Lastly, pay at least $15/£11.58 and you'll get all that plus Observer. Our former Adam (RPS in peace) called it best horror games and, more than that, one of his favourite cyberpunk games. He said:
"This, I think, is a cyberpunk game that captures the social and political aspects of the genre, as well as the body horror and the credibility of the tech. What it doesn't have is the cool factor, and that's because we're only shown one part of the world – a part where everything has gone to hell and where nobody wants to draw attention to themselves. It's the Cronenbergian cyberpunk game I never knew I wanted, and it's shot right into my top ten of the year so far."
If Adam approves of a spooking, that's good enough for me.
The bundle is available for another 13 days.