Company Of Waaagh! It's The Humble Relic Bundle
For the Emperor and all that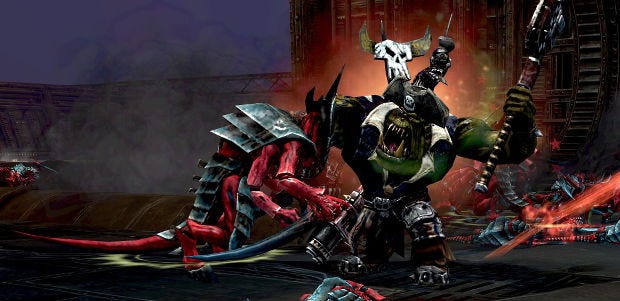 If we seem cynical and suspicious of the many Warhammer 40,000 games we've seen in recent years, it's because we judge them against the high-water mark of Relic Entertainment's 40k games. Dawn of War with its real-time strategising, Dawn of War II with its added action-RPG-ish flair, and Space Marine with its head-stomping are as good as we've had 40k in recent years. So huzzah! For the next week you can get the lot for just a few quid.
The latest Humble Weekly Bundle focuses on Relic, with a load of Dawn of War, Space Marine, and Company of Heroes games depending on how much you fancy paying. CoH is good too.
The usual Humble dealio applies: name your price (above $1), decide how to split the money between the devs, Humble, and charities, then receive games. This time, they're all Windows-only and come as keys to plug into Steam. Onto the tiers!
$1 or more gets you Warhammer 40k: Dawn of War (note: the Game of the Year Edition here doesn't include its expansions), Dawn of War II, Company of Heroes plus its expansions, and the Company of Heroes 2 standalone multiplayer expansion The Western Front Armies: Oberkommando West.
Actual Company of Heroes 2 comes in at the next tier, if you beat the average price (currently around $6). That also gets you CoH 2 - The Western Front Armies: US Forces, Dawn of War II - Retribution, and Warhammer 40,000: Space Marine.
Lastly, pay at least $15 and you also get the Company of Heroes 2 - Ardennes Assault campaign expansion.
Curiously absent are the many expansions for Dawn of War, DoW 2's Chaos Rising, or Space Marine's DLC. I suppose it's not a completionist package, though, merely a starting point - and one can hardly grumble it's a rip-off.
The bundle will be available until next Thursday, June 4th.