If you liked Coffee Talk, then you'll love Before The Coffee Gets Cold
Do they serve tea?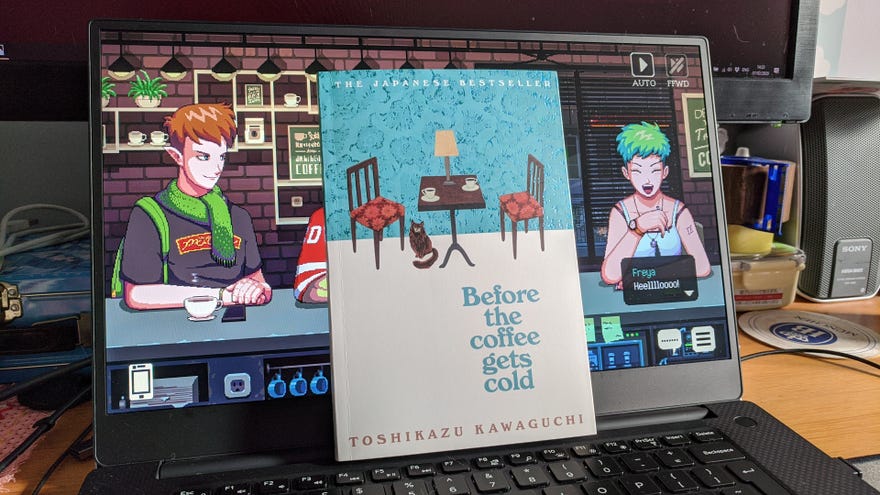 Coffee Talk is one of the most perfectly chilled visual novels I've played in a while. Set in a near-future version of Seattle where werewolves, orcs, humans, elves and other assorted fantasy creatures are all upstanding members of society, you play as the owner of a late-night coffee shop that only ever opens from midnight until the early hours of the morning. If that sounds familiar, it's probably because the developers Toge Productions drew a lot of their inspiration for the game from Netflix's Midnight Diner, where a chill Japanese man known only as The Master serves up pork soup and shochu to a small band of locals in his late-night izakaya.
However, it also reminded me a lot of Japanese novelist Toshikazu Kawaguchi's time-travelling cafe book, Before The Coffee Gets Cold. It may not take place at night, but it does capture a very similar chilled out vibe where its cast of regular customers gradually open up to one another. Like Midnight Diner, you have no agency in the story other than to simply consume their hang-ups, regrets and personal revelations, but if Coffee Talk left you wanting more of that cosy cafe ambience, then the time-travelling exploits of Before The Coffee Gets Cold make for an excellent companion piece.
Read the rest of this article with an RPS Premium subscription
To view this article you'll need to have a Premium subscription. Sign up today for access to more supporter-only articles, an ad-free reading experience, free gifts, and game discounts. Your support helps us create more great writing about PC games.
See more information