If You Strike It Down... Galaxies Reborn?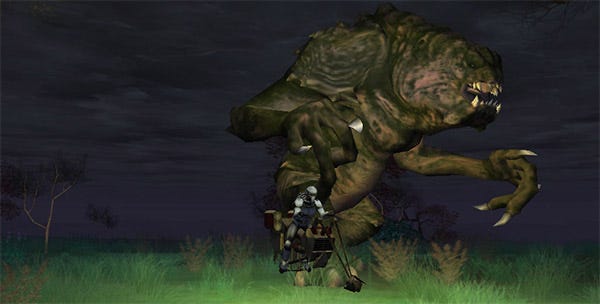 Poor old Star Wars Galaxies will sleep the dreamless, eternal sleep in just a couple of weeks, not entirely uncoincidentally around the time EA's The Old Republic fires up its servers. For the valiant few who'd remained with SOE's bizzare, ambitious, messy, remarkable MMO, it will be an unhappy day. As if millions of voices suddenly cried out in annoyance and were suddenly silenced, then went to a forum to complain.
However, an enterprising few mean to keep the game alive - specifically, in the form it was before the controversial Combat Upgrade that so upset many of the faithful.

The folk behind SWGEmu have reverse-enginereed SOE code, they claim, so as to provide servers even once the official ones are finally deaded. It is, of course, then up to you whether or not you use your copy of SWG to connect to said servers. Doing so is, it is said, in violation of SOE's EULA. An EULA for a game that is soon to be dead. Hmm. Well, it's out of my hands.
I can't speak for how solid (and regularly-updated) an experience SWGEmu is offering, as apparently you need a copy of the original SWG installation media to get going, and I threw mine away a long time ago in a galaxy far, far away (North East Somerset, specifically). If you want to find out more and give it a go, you'll be wanting to look over here for the new client download and installation guide.
Good luck, young rule-bending padawan. Let us know how you get on.
Thanks, Jeffrey.