Jagged Alliance: Not Yet Back In Action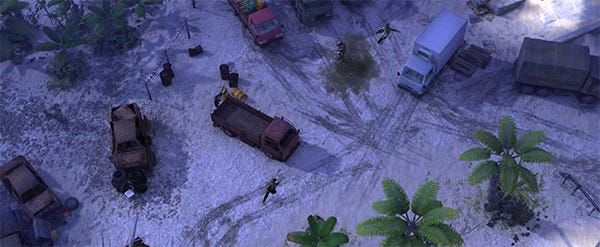 It's almost December now, and even though I've checked my hard drive thoroughly, again and again, there is no trace of Jagged Alliance: Back In Action on it. Which doesn't make any sense, given the game was supposed to be out on October 18th. Let me just check again.
[Checks]
Nope, there's half of an Alanis Morrisette album an ex left on there years ago, but that's all the Jagged I'm getting. Wha'happened?
[Checks]

Huh, just been announced as now coming out next February, eh? Very well. Gives us more time to come to terms with news that the JO reboot won't be turn-based, and whether we prefer this or Jagged Alliance Online. There's a new, screenshot-packed website out to accompany news of the new release date. And below is the video you've all been waiting for: the making of JABIA's soundtrack:
Plus some previously-seen drama that contains said soundtrack in bombastic action: