Get On The Floor! Just Dance Makes PC Debut This Year
No Kinect needed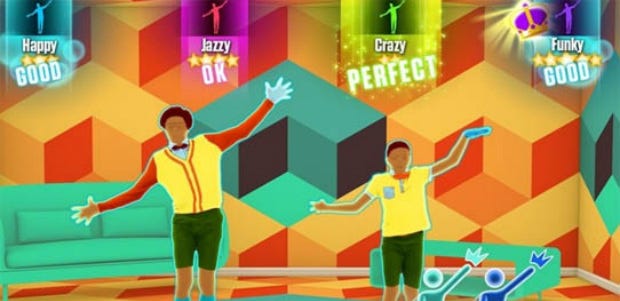 Update: Whoops! While I'd originally suggested Just Dance 2017 requires the Kinect, it doesn't. Brainfart! It instead uses the Just Dance Controller app.
Well, isn't this something? The best-selling music game series of all time, the one that started way back in 2009 and has made it onto just about every other platform since, is coming to PC this year. Ubisoft's Just Dance 2017 [official site] is heading our way in October, bringing with it a range of different modes, 40 new tracks, and over 200 more via its "dance-on-demand" Just Dance Unlimited service.
Get on yer dancing shoes and we'll check out its E3 reveal trailer:
You'll need to download the Just Dance Controller app to play - "which lets up to six players join in by using their smartphones as motion sensors, with no camera or Kinect needed" - you'll need to clear a bit of floor space to cut some shapes, and you'll probably also fall out with your significant other because the only way they let you splash out on that expensive gaming PC was if you stuck it in a corner of the living room and promised to only ever play with your headphones plugged in. Well, that last part's probably just me but you might want to at least check with the downstairs neighbours before shaking off and cutting loose.
Anyway, Just Dance 2017 includes things like the Just Dance Machine, a "frantic" new mode that asks you to perform different dances - such as flamenco, ballet, and the cancan - in order to "help your alien captors return home." Sounds a bit weird, but there's also the Sweat + Playlists fitness mode, that lets you add your own playlists, and the Dance Quest online challenge mode too. With those, you'll be boogying on down to the ten tracks that've so far been revealed:
Sorry – Justin Bieber
DADDY – Psy Ft. CL of 2NE1
Cheap Thrills – Sia Ft. Sean Paul
Lean On – Major Lazer Ft. MØ & DJ Snake
Worth It – Fifth Harmony Ft. Kid Ink
Don't Stop Me Now – Queen
PoPiPo – Hatsune Miku
Radical – Dyro & Dannic
El Tiki – Maluma
September – Equinox Stars
What Is Love – Ultraclub 90
I'm surely showing my age when I only recognise a few of those tracks there, and that the last one listed is undoubtedly the best of the lot. Another 30 tunes will make up Just Dance 17's playlist by the time it releases in October this year.
Don't miss the rest of our E3 2016 news this week.