Kick The Tyres Of Car Mechanic Simulator 2014
Car-ickey.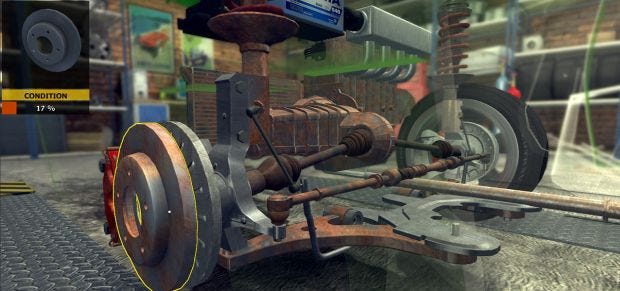 For the purposes of this news post, I am going to run with the question that the Car Mechanic Simulator 2014 press release ponders: "Have you ever wondered what's it like to own a mechanic workshop?" Yes. Yes I have. I long for the nuts, the bolts, the oil changes, and the satisfying clink of metal tools on metal bits. It's everything I've ever dreamed of, but because of a horrendous allergy to the smell of pine, and a fear of breaking brakes, I am unable to be one. If only there was a way that I could have all the work of a car mechanic, but with none of the responsibility? If only I had a pair of trailers that would somehow lead the way, like a racing line to my heart.

That's Car Mechanic Simulator 2014. It lets you peel apart a car's outer layers, deal with customer demands, and then put it all back together again and hope those left over bolts are just spares. It looks ridiculously satisfying: turning the terror of car maintenance into a 3D puzzle., The question I have now is does the second trailer show a simplified method of stripping a car down, or is it is basically accurate? Someone out there please tell me.
It's out this month, and I really want to watch a Tim Stone long play of it.