League Of Legends also getting an action-RPG-ish spin-off and esports manager sim
Have you run out of announcements yet?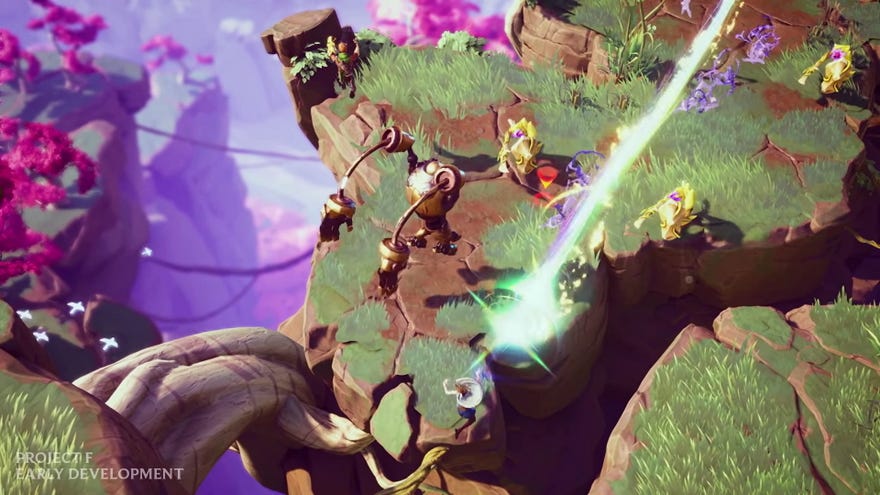 In last night's flurry of announcements, League Of Legends developers Riot Games revealed another two games: some sort of action-RPG-lookin' thing codenamed Project F, and a digital sports management sim named League Of Legends Esports Manager. They focused attention on the other announcements (their new FPS, card game, and fighting game) so you might've missed these two in there. Project F or Esports Manager are building upon the game that made Riot's name, helping turn LoL into an omnigenre brand.
Project F was the vaguest of Riot's vague announcements. It's set in the LoL universe, and a press release describes the game as "a very early development project that explores the possibilities of traversing the world of Runeterra with your friends." They showed a teensy work-in-progress peek during last night's stream:
Looks like an action-RPG, probably? Ish. Sorta thing.
"I hope that in the same way when you see a Disney movie and then you go to Disneyland, and getting to actually walk around and explore a space that you know really well feels so magical, I hope that's the kind of experience we can give to players," one Riot person explained, "that feeling of actually seeing something and then going there in-person and wandering around as though it were real."
How handy for Riot to make a Disney comparison as they expand their brand into a great many new genres and stake a larger claim on player time and mindshare. Thanks Riot, saved me from doing it myself.
As for League Of Legends Esports Manager, that sounds like a Football Manger-ish team management dealio. Riot say it "will allow fans to assemble a world-class League Of Legends esports teams as a team manager, signing players to contracts, and more." It'll feature real pro LoL teams, and will share revenue with those teams.
It's due to debut in China in 2020 then "eventually expand" to other regions. Accordingly, they only have this Chinese trailer for now: