Left Hand, Metro Right Hand: 4A On Poor Work Conditions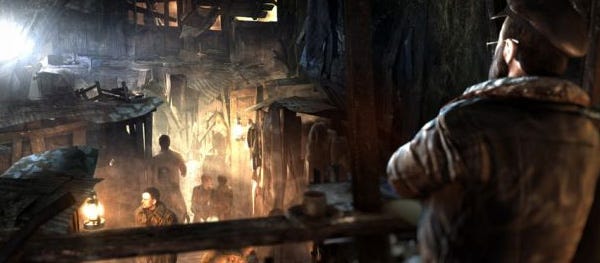 To hear former THQ boss Jason Rubin tell it, Metro: Last Light studio 4A Games is maybe not the best place to work. He doesn't mean that in a whip-crack-y, everyone's-a-jerk way, though. Quite the contrary, actually: he recently claimed it was a case of absurdly talented people working elbow-to-elbow in "appalling" conditions. Their offices? "More like a packed grade school cafeteria than a development studio." Picking up new hardware was apparently also quite the ordeal. "When 4A needed another dev kit, or high-end PC, or whatever, someone from 4A had to fly to the States and sneak it back to the Ukraine in a backpack lest it be 'seized' at the border by thieving customs officials," said Rubin. But what about 4A's side of the story? Creative director Andrew Prokhorov recently saw fit to chime in.
Taking to the comments of Rubin's original article on GamesIndustry.biz, Prokhorov set the record straight:
"It is a fact that our work conditions are worse than those of other developers outside Ukraine. I don't think anyone can doubt that - yes, it's true that American and most of European developers operate in a country far more comfortable than Ukraine. And yes, the publishers pay them more. This is clear: the more 'reasonable' the country the less the risks. And we don't want to be all dramatic about that - after all, better conditions are earned, and we strive to do this as soon as possible."
In spite of the not exactly ideal situation, Prokhorov expressed thankfulness to Rubin, THQ, and Deep Silver, explaining that everybody - in one way or another - simply ended up in a tight spot. No one deliberately tossed his company naked into the cold. "Just like us, [Deep Silver] ended up in a harsh situation and had to do a lot of things in two months, which was definitely a very hard task. I don't blame them for letting the logo thing slip. They are trying hard."
He also noted that 4A wasn't prodded or blackmailed into "chasing" a multiplayer mode. They wanted it just as badly as THQ, but things simply didn't work out. Maybe that molten blob of time and effort could've been forged into a better single-player game, but it is what it is. And so, Prokhorov concluded:
"We deserve the ratings we get. After all, the final consumer doesn't care about our conditions. And this is RIGHT. We need no indulgence."
I disagree entirely with the assertion that people shouldn't care about other people's work conditions. But 4A's attitude is incredibly admirable. If nothing else, you certainly can't deny them that.