Lego 2K Drive looks like a bricky blend of Forza Horizon and Sonic Racing
The open world racer is coming in May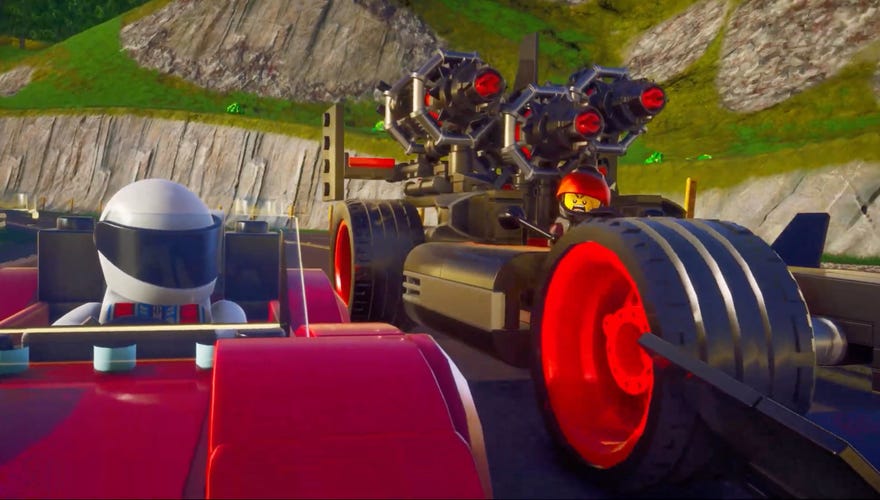 After some early leaks these last few days, publisher 2K have officially announced Lego 2K Drive, an open-world racer that looks surprisingly awesome - if you'll excuse the low-hanging adjective. The game features co-op, multiplayer modes, and the ability to transform between air and land vehicles, Team Sonic Racing-style. The downside? Its collection of pre-order bonuses probably needs a graph of some kind to understand.
Vicky Wheeler and Parker Car, eh?
Lego 2k Drive's reveal trailer carries the overbearing positivity from The Lego Movie, with two chirpy broadcasters narrating the affair. It's cute and fun, at least at first, and even though I know I'll be muting the game to listen to music anyway. Much of the trailer goes at a breakneck pace as the driver speeds flips around a vibrant open world. You can build and customise your own Lego vehicles, too, which leads to the trailer showing off things like chicken-shaped vans.
Forza Horizon 4's Lego-themed expansion has me unnaturally excited for this one. Like, yes, I do want to zip about in my cheeseburger-shaped car. And yes, I will drift through tons of Lego trees, becoming the sole reason for deforestation in this innocent little world.
The pre-order bonuses are kind of a headache, though. There's the good ol' Standard Edition which comes with the base game and costs £50/$60/€60 on PC, Switch, PS4, and Xbox One. Next-gen Xbox and PlayStation owners have a slight tax as it'll cost you £60/$70/€70. The Awesome Edition is £85/$100/€100 and comes with a Lego season pass called the Year 1 Drive Pass - yawn. The Awesome Edition also comes with an additional vehicle and minifigure. Finally, the Awesome Rivals Edition costs a whopping £100/$120/€120 and includes everything the other editions do, plus "four individual post-launch seasons of Drive Pass content, each with new vehicles and themes."
If you're a fan of the colourful bricks in video game form, Lego 2K Drive might be the only Lego game we get for a while, since TT Games have reportedly cancelled a bunch of their upcoming projects.