LEGO Star Wars: The Force Awakens Coming In June
A cheeky leak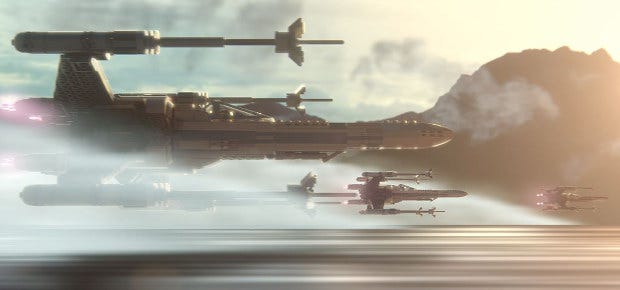 It's been six weeks since I saw Star Wars: The Force Awakens and, on reflection, yes the best bit is definitely the robots and carpet man making all their silly noises. I laughed every time. I have high hopes, then, for LEGO Star Wars: The Force Awakens. TT Games always bring 'the laffs' in their plasticised riffs on movies, and they have such strong source material here! We're not supposed to know yet that their next blocky adventure is The Force Awakens (heck, LEGO Avengers only just came out), but a trailer and Xbox store listing have arrived a bit before the game's actually announced.
That Xbox listing, which lists the release date as June 28th, explains it all:
"In LEGO Star Wars: The Force Awakens, players relive the epic action from the blockbuster film Star Wars: The Force Awakens, retold through the clever and witty LEGO lens. The game will also feature exclusive playable content that bridges the story gap between Star Wars Episode VI: Return of the Jedi and Star Wars: The Force Awakens.

"LEGO Star Wars: The Force Awakens also introduces Multi-Builds and Blaster Battles to the LEGO videogame universe. With Multi-Builds, use available LEGO bricks to open up new paths, then break them apart and re-build them again to open up another! And another! During Blaster Battles, use your surroundings as cover to stand against the First Order."
And, look, this trailer isn't the best rip (it's from an ad popping up on YouTube videos), but it shows what you want to see so don't grumble. I'm sure a prettier official version of the trailer, not to mention a formal announcement with more information, will be along soon enough. Here it is!
The formal announcement also brings word of space battles:
"Fans can also experience the thrill of high-speed flight gameplay through arena-based battles and dogfights in space, while utilizing a multitude of vehicles along the way, including the legendary Millennium Falcon."
Ooh, aah etc.