Give me a hella yeah: more Life Is Strange coming
Fast forward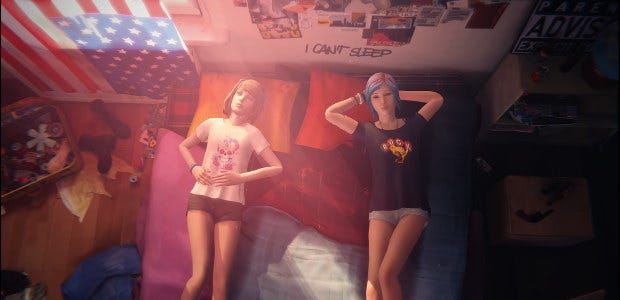 We loved Life Is Strange [official site] here at RPS. Even though we're so old that we had to Ask Jeeves (.com) what all of the slang its characters used actually meant, we fell in love with the autumnal world and the people sighing and struggling through their strange little lives. In a tale as old as time-manipulation, a photography student uncovers mystery and rekindles friendship in a quiet town on the brink of disaster. We've all been there.
And we've been waiting for more. Turns out development studio Dontnod have been holding out on us because they've been working on the follow-up for some time already, as they make clear in the video below.
Life Is Stranger? Lives Are Strange? Life is Hella Strange?
Maybe this will be a direct continuation, maybe it'll pick up the plot years down the line. Maybe it'll even be an entire new cast of characters in a new place at a new time. Whatever the case, I can't wait to see more. I was, in fact, hoping to see more in a few weeks at E3 but that won't be happening:
...we can indeed confirm that the original Life Is Strange team at DONTNOD are working on a brand new Life Is Strange game. We can't wait to tell you all about it when the time is right, but for now we are hard at work ensuring it is the very best game we can create. We're really thankful for your patience thus far and ask for a bit more time. The new game will not be at E3 in June this year but we will be watching the show alongside you all and wish everyone good luck!
Dontnod bring us this news along with a triumphant roar - or a slightly chuffed shrug - as they announce that they've reached "over 3 million unique paying players" for the original. They're also working on RPG Vampyr, though as far as I know that's a separate team to the Life Is Strange folks. I'll accept goths in my Life Is Strange, but no actual vampires.