Logitech G502 Hero review: Faster, stronger, but it is better?
Holding out for a hero?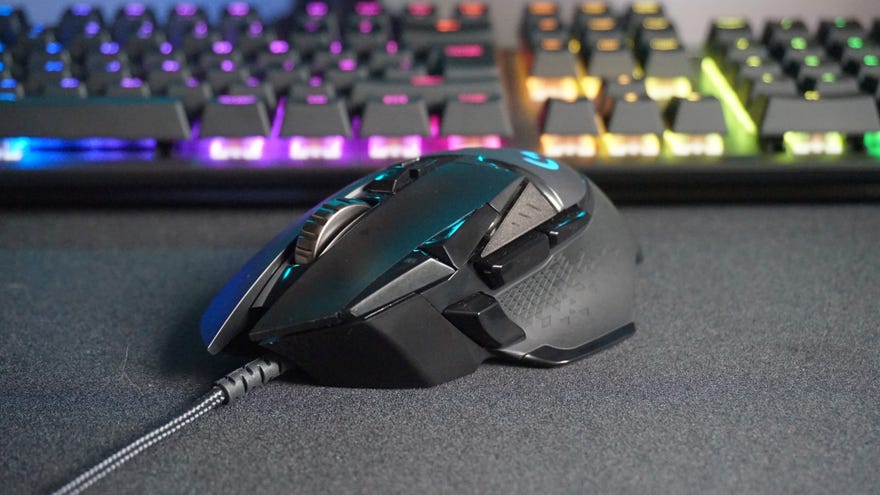 As you might have guessed from the name, the Logitech G502 Hero is a slightly fancier version of Logitech's classic £50 / $50 G502 gaming mouse. For an extra £30 / $30, you can bag yourself a 16000 DPI sensor as opposed to a 12000 one, left and right clickers with a 50 million click endurance rating rather than 20 million, and an additional two onboard memory profiles taking the total to five instead of three. Otherwise you're looking at exactly the same mouse as before. Is it worth the extra cash and can it muscle in on the Steelseries Rival 310 for the best gaming mouse crown? Let's find out.
I'll admit I was surprised when I found out the G502 Hero weighed 121g, as it feels much lighter when you're moving it around the mouse mat. On paper, it's just 9g lighter than the humongous Roccat Kone Aimo, and yet the Hero's svelte dimensions and super smooth feet often gave the impression it was gliding effortlessly across my fabric mouse mat with barely any resistance whatsoever. It is, admittedly, very much a 'gamer' style mouse with its many sections and copious combinations of matt and glossy finishes, but there's no denying it feels sturdy and well-made.
Like the Steelseries Rival 600, you can also make it even heavier if you wish, as both it and the regular G502 come with a little box of five 3.6g weights that can be slotted into the base of the mouse beneath its magnetic clip-on cover, giving you an additional 18g to play with in total. As someone who prefers a lighter kind of mouse so my spindly fingers don't ache with exertion after half an hour, I found that one weight was more than enough for my tastes during daily use and playing games, but at least the option's there for those who prefer something with a bit more heft to it.
Naturally, this sculpted mouse is very much intended for right-handed users. There's a handy, textured thumb groove on the left-hand side beneath two easily-accessible side buttons, with the same material over on the right to help anchor your little finger. As I hinted at above, it's exceedingly comfy to use on a daily basis, and the shape of it is just right for both a traditional fingertip-style grip where your wrist sits just behind the back of the mouse, and a lazy old palm-smothering grip.
Given the G502's almost perfect proportions, I was impressed that Logitech managed to cram on so many extra buttons here without any of them getting in the way, as you get not two, not three or even four additional buttons, but seven of them. The aforementioned pair of side buttons are set to forwards and backwards for web browsing by default, but each one can be configured to almost anything you like through Logitech's Gaming Software, such as media commands, DPI controls, keyboard shortcuts including copy, paste and undo, as well as recordable macros.
You'll also find another two buttons just above those beside the main left clicker. These can shift between different DPI or sensitivity settings, and on the Hero you can set up to five in total ranging anywhere between a dead-slow 100 DPI and a far-too-fast 16000 DPI (the regular G502's DPI range goes from 200-12000). Personally, I'm not sure anyone really needs the extra 4000 DPI afforded by the Hero. Unless your eyes have been plucked from a robot's corpse and can somehow keep track of these faster-than-light mouse speeds, anything between 12000 and 16000 is just too quick for me to keep up with on a daily basis, and I suspect it will probably be the same for you, too.
However, the extra 100 DPI at the lower end of the scale may well come in handy when it comes to employing the G502's third side button at the end of the thumb groove, the appropriately named Sniper button. Hold this down and your DPI can be changed on the fly without you having to reach for anything else when you're mid-shot or trailing enemy players down your gun sights. As inept as I am at competitive shooters, I do appreciate the practicality of buttons like this, as it gives you just that little bit of extra control over your movements that other mice might not afford.
Finally, the last pair of extra buttons are located just below the scroll wheel. The one nearest your hand simply switches between different profiles (and can once again be configured to whatever you like in Logitech's Gaming Software), but the top one changes the speed and feel of the scroll wheel.
Out of the box, mine was set to impersonate Leonardo DiCaprio's endlessly twirling spinning top from Inception, and for a while I lost all sense of time and space. It was a horrible feeling, this eternal looping mechanism that never stopped going round and round and round even though I only wanted to read one more tweet in my web browser, and it actively made me dislike the G502 the longer I used it. It was only when I pushed the button beneath it that the G502's highly tactile stopper thing kicked in and I came crashing back to reality, the scroll wheel now placing a firm full stop at the end of each roll with a reassuring, almost cat purr-like clicky hum. I immediately felt much better after that, and stopped me from wanting to Sparta-kick the G502 straight into the bin Assassin's Creed Odyssey-style.
Getting back to the topic at hand, there is, of course, a dash of RGB lighting on this here gaming mouse, because that is a rule all gaming mice must apparently follow these days. Thankfully, you'll only find it illuminating the small Logitech G logo on the top of the G502, which is always hidden by your hand when it's in use. Logitech also give you plenty of options to keep it as discreet as possible, too, as you can change both its brightness, flashing rate and even put it on a sleep timer so it's not constantly flashing away at you when it's sat idle.
Ultimately, though, I'm just not sure the G502 Hero is worth the extra £30 / $30 over its equally well-designed sibling. The enhanced 50 million guaranteed left and right clicks may come in handy if you're a particularly heavy-handed mouse user, but for me it's not quite enough to justify the extra price hike. After all, you still get all the same buttons, the same weight options and the same great design. Maybe it's because I'm the kind of person who'd only ever spend £30-40 on a gaming mouse in the first place (£50 at a push in the case of the regular G502 or the excellent Steelseries Rival 310), but I appreciate those after something potentially a bit longer-lasting may feel differently. Still, from where I'm standing (or, err… sitting), it's the regular G502 that's the real hero here.