Best gaming mouse 2022: the top wired and wireless gaming mice
Our tried and tested gaming mouse picks
The last time I updated this guide to the best gaming mice, I blew the entire opening paragraph moaning about how a deluge of mouse launches (and thus new mice to test) had them taking over my home. Things have calmed down to the point I only need to blow half a paragraph, but the worthy peripherals keep coming - such as the Razer Viper V2 Pro, which you can read more about below.
This and the rest of my/Katharine's picks have all been tested for comfort and feel, as well as practical performance and features. Given a gaming mouse spends most of its time in a hand, the sensation of using it is just as important as cold-hard specs and button counts, if not more so. A lot of more recent mice actually emphasise lightness specifically, so we've highlighted a few weight-cutting models in this list alongside the more traditional wired, wireless and ambidextrous gaming mouse picks.
Read on for the full list, and feel free to peruse our best gaming keyboards and best gaming headsets lists if you're after a full set of PC peripheral upgrades.
Best gaming mouse
---
Logitech G502 Hero
The best gaming mouse overall
Back in the Before Times of 2019, RPS readers voted the Logitech G502 as your favourite gaming mouse. Good choice - I use one almost every day as part of the main RPS test rig. There's just something so wonderfully complete about it: a sweet blend of comfort, features and tactility, with plenty of opportunities for customisation.
That extends from the removeable weights, which you can swap in and out to adjust how the G502 feels, to the support for multiple sensitivity/input/RGB lighting profiles. Speaking of which, the 11 programmable buttons and close to perfectly placed, ready to be pressed without straining a thumb but not intruding into normal digit-resting space. There's even a satisfying robustness to their clicking action that you don't always get elsewhere, even on Razer or SteelSeries' best mice.
The slight hitch is that the original Proteus Spectrum model only seems available at bizarrely inflated prices. Luckily, you can get the newer G502 Hero – which is basically the same mouse, save for an updated, more sensitive sensor – for much more reasonable money.
---
Razer Basilisk V3
The best premium gaming mouse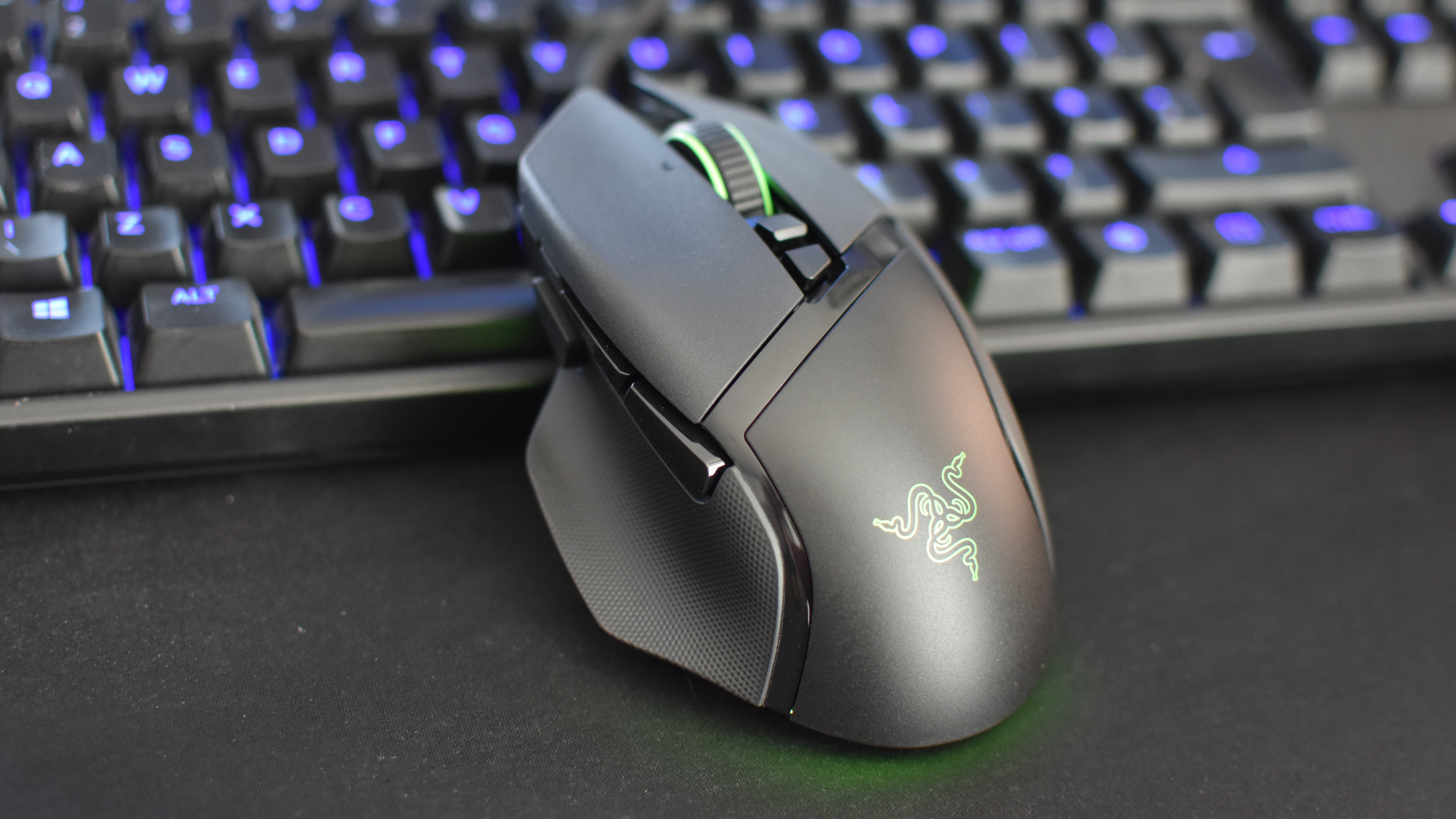 The Razer Basilisk V3 is worth checking out if your budget extends beyond the G502, or if you want a gaming mouse with more subtle styling. This latest model is the spitting image of the Basilisk V2, except for a new RGB lighting zone wrapping around the base, and is just as practical and comfortable. I adore the textured grips on the thumb rest and opposite edge, and the programmable "multi-function trigger" just below the thumb buttons is both more compact and more durable than the V2's removable equivalent.
This is, of course, just one of many programmable buttons, and Razer's Synapse software makes tinkering and setting up profiles a breeze. There's also a new optical sensor, peaking at 26,000 DPI (up from 20,000 DPI on the V2), and an unusually not-boring scroll wheel.
Besides switching between tactile and free-spinning modes at a button press, the Basilisk V3's wheel can be set to dynamically switch between the two, depending on how fast you're scrolling. I prefer to switch this "Smart-Reel" mode off in games, but it's great for web browsing and general desktop use.
---
Logitech G203
The best cheap gaming mouse
There are loads of budget gaming mice to choose from these days, but the Logitech G203 Lightsync is by far the best of the bunch. Its build quality is much better than its similarly priced rivals, such as the HyperX Pulsefire Core and Steelseries Rival 110, and it also has a more responsive sensor, too.
It's reasonably small, but it's also exceedingly light, making it feel lovely and smooth to move round your mouse mat. Nothing against larger mice, naturally, but they can be more of a chore to move quickly if you have small hands.
The G203 also has two extra side-buttons on the left hand side of the mouse, which can be programmed to do all sorts of diffferent functions. These include keyboard buttons, macros and media controls, and a dedicated DPI clutch / sniper button that lowers the mouse's speed to whatever setting you like for as long as you hold it down - handy, if you're into online competitive shooter games.
---
Logitech G Pro Wireless
The best wireless gaming mouse
The Logitech G Pro Wireless is hands down the best wireless gaming mouse we've tested. It's not cheap, yes, but wireless mice rarely are, and this is the absolute cream of the crop. It's wonderfully agile and super comfy to use, and at 80g it's lighter than a lot of its rivals (just not preposterously light, like the Razer Viper V2 Pro below). When you combine that featherlight nothingness with Logitech's practically lag-free Lightspeed wireless tech and its brilliant Hero 16K sensor, the Pro Wireless definitely justifies its high price.
It may not have a central DPI button like every other gaming mouse on the planet (it's actually on the bottom of the mouse, for some incomprehensible reason), but Logitech's intuitive Gaming Software tool gives you plenty of flexibility when it comes to customising its various buttons to suit your gaming habits. Whether you're right or left-handed, you've got loads of options here, including being able to change your DPI or sensitivity setting on the fly for as long as you hold down your chosen button.
The Pro Wireless is also one of the most tasteful gaming mice, design-wise. Its smooth, simple curves are accented by a single zone of RGB lighting over its G logo on the rear of the mouse, and that's it. Not jaunty angles, no glossy flourishes; just good old-fashioned design that doesn't make you want to blush with embarrassment every time another human being claps eyes on it.
---
Razer Viper V2 Pro
The best lightweight wireless gaming mouse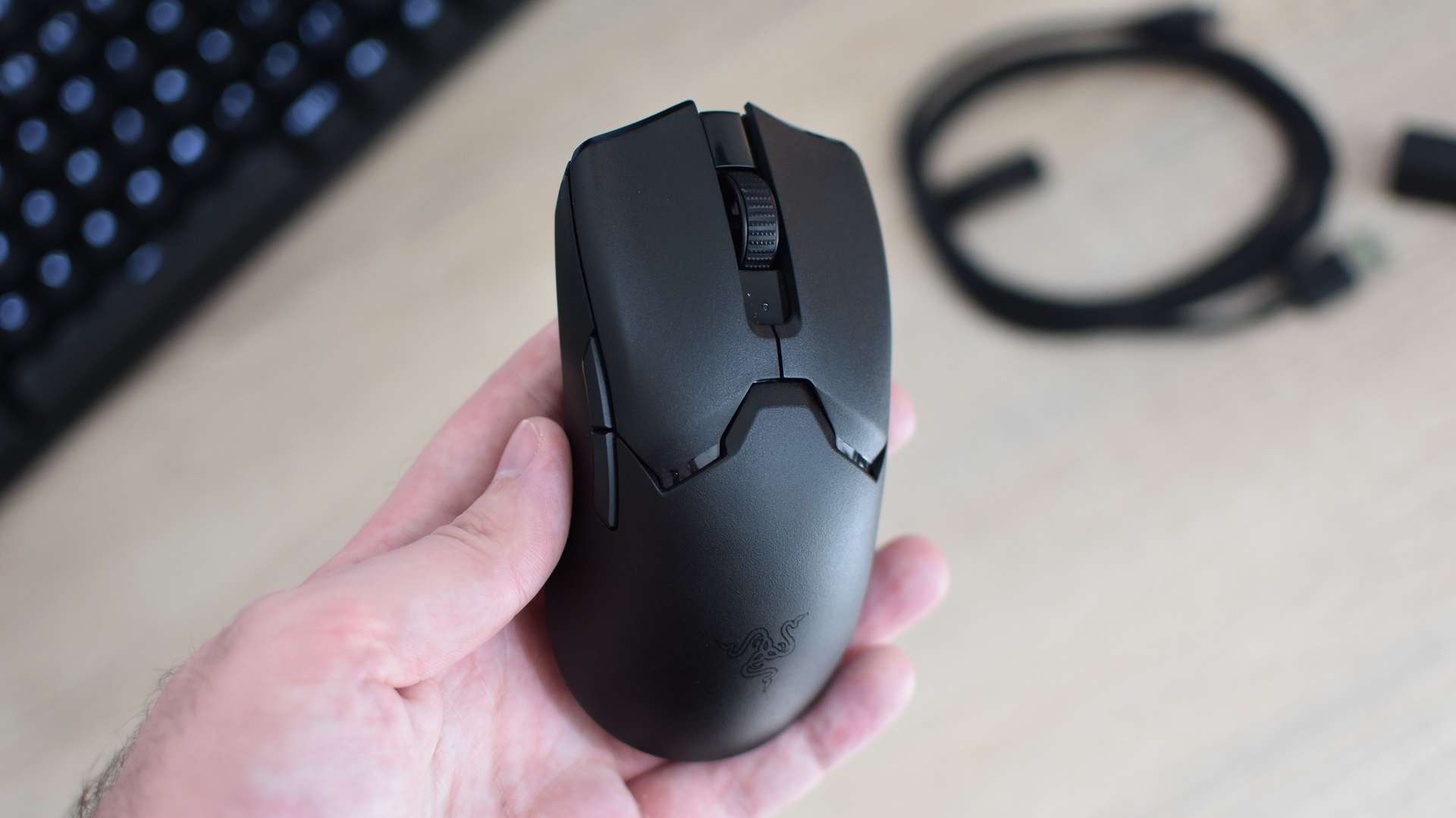 The Razer Viper V2 Pro doesn't initially make a very convincing case for itself. It's meant as a replacement for the Viper Ultimate wireless mouse, but despite a higher price it ditches that mouse's ambidextrous design - losing a pair of side buttons in the progress – as well as the included-as-standard charging dock. Why pay more for fewer features?
The answer, unfortunately for left-handers, is that in most other ways the Viper V2 Pro is a big improvement. Most noticeably, it's even lighter than the Viper Ultimate, shedding down to just 58g – which combined with the impeccably smooth feet makes it a real pleasure to slide around. As does the comfortable shape, and while the Viper V2 Pro also gets rid of the Viper Ultimate's built-in textured grips, it replaces them with stick-on rubber strips you can apply yourself. If you eventually wear one down, you can replace the strip alone, not the entire mouse.
The hyper-responsive optical switches also have the clicky, tactile bite of mechanical switches, so while you do have slightly fewer buttons to configure overall, they feel as snappy as ever. And honestly, the dock isn't a massive loss. The Viper V2 Pro still comes with a cable and USB-A-to-USB-C coupler, which can close the wireless dongle's distance to the mouse just as the dock could, and personally I'd rather charge the mouse directly over a wired connection than leave it on a stand. A stand that won't, y'know, let me keep using the mouse.
---
Corsair Harpoon RGB Wireless
The best cheap wireless gaming mouse
If the price of the Razer Viper V2 Pro gave you a fright, then you'll be pleased to hear that the excellent Corsair Harpoon RGB Wireless can be had for a whole lot less. This is an absolute steal for those after an affordable wireless gaming mouse, and thanks to Corsair's super fast Slipstream wireless technology, the Harpoon RGB Wireless feels just as nippy as its Logitech rival, making it great for gaming and general desktop duties alike.
The Harpoon Wireless has built-in low latency Bluetooth support as well, just in case you've got one too many 2.4GHz wireless devices getting in the way of things, but even in my many wireless device-ridden home it worked like an absolute dream.
Granted, that's not enough to make it the best wireless mouse overall – battery life is shorter than on the Viper V2 Pro and Logitech G Pro Wireless, and the Harpoon RGB Wireless is heavier than both as well. Still, there's a lot to like here besides all that, and you'll be hard-pushed to find a more responsive mouse for less.
---
HyperX Pulsefire Haste
The best lightweight gaming mouse
The HyperX Pulsefire Haste doesn't have the spillage resistance of the Aerox 3 (see below), but it is cheaper, almost at light at 59g, and to my hands, feel a bit nicer. It's a combination of the bigger, easier-to-press thumb buttons and the meatier click of the main left/right switches that produces a generally more pleasant and comfortable mouse-wrangling experience.
The honeycomb pattern of the weight-saving cutouts also looks more refined than the simple square holes that SteelSeries went for, while the RGB lighting is limited to some tasteful rings around the scroll wheel.
Granted, there's not much else to say about the Pulsefire Haste's features, but in fairness it achieves everything that HyperX clearly wants it to. It's lightweight, performs well, and offers both those qualities for relatively a sensible outlay.
---
Corsair Ironclaw RGB
The best gaming mouse for big hands
For those after a great mouse that doesn't break the bank and offers loads of extra features, it simply doesn't get much better than the Corsair Ironclaw RGB. Not only is its large, contoured shape very comfortable to use over periods of time, but its weight of 105g and responsive sensor make it lovely and fast in the hand, too.
Sure, the dash of RGB lighting won't be for everyone (although you can always turn it off using Corsair's iCUE software), but it's a lot better-looking than the hard, 'gamery' edges and matt / gloss combo design of the similarly-priced Logitech G502 Hero (and G502 Proteus Spectrum, by extension).
The Ironclaw RGB also offers more functionality than the mildly equally unassuming Steelseries Rival 310. The Rival 310 is still a great choice for those looking to keep costs down (as is the identical Sensei 310 if you're looking for a cheap ambidextrous mouse), but the Ironclaw does a lot more for the money, such as giving you an extra DPI or sensitivity profile to play with, a braided USB cable, seven programmable buttons instead of six, and the ability to turn one of those buttons into a 'sniper' button for on-the-fly DPI adjustments to give you better control when lining up shots in FPS games. All in all, it's a great value mouse.
---
SteelSeries Aerox 3 / SteelSeries Aerox 3 Wireless
The best gaming mice for small hands
I, uh, do not have small hands. I fact I have quite large hands, the kind that create logistical problems when installing M.2 SSDs or eating Pringles. Yet even I can see the petite appeal of the SteelSeries Aerox 3 and its cable-cutting variant, the Aerox 3 Wireless.
Weighing just 57g and 66g respectively, these are some of the lightest, easiest-to-shift gaming mice around, and at 120mm long they're compact without being too small for a comfortable grip. The Swiss cheese styling won't be to everyone's tastes, and could risk turning the Aerox 3 twins into piggy banks for dust if you don't keep your desk clean, but the holes do help keep the weight down – as well as show off the onboard lighting. Don't worry about the effect on build quality, either, as there's no flexing or creaking around the more skeletal bits.
In fact, toughness is the Aerox 3's party trick, as both models mice are water- and dust-resistant to the IP54 standard. That means the electronics are protected against solid muck ingress as well as slight splashes of liquid, a claim that held up in my testing. I chucked water and soft drinks at the Aerox 3 Wireless, and it always worked fine after drying off.
---
Roccat Kone XP
The best MMO gaming mouse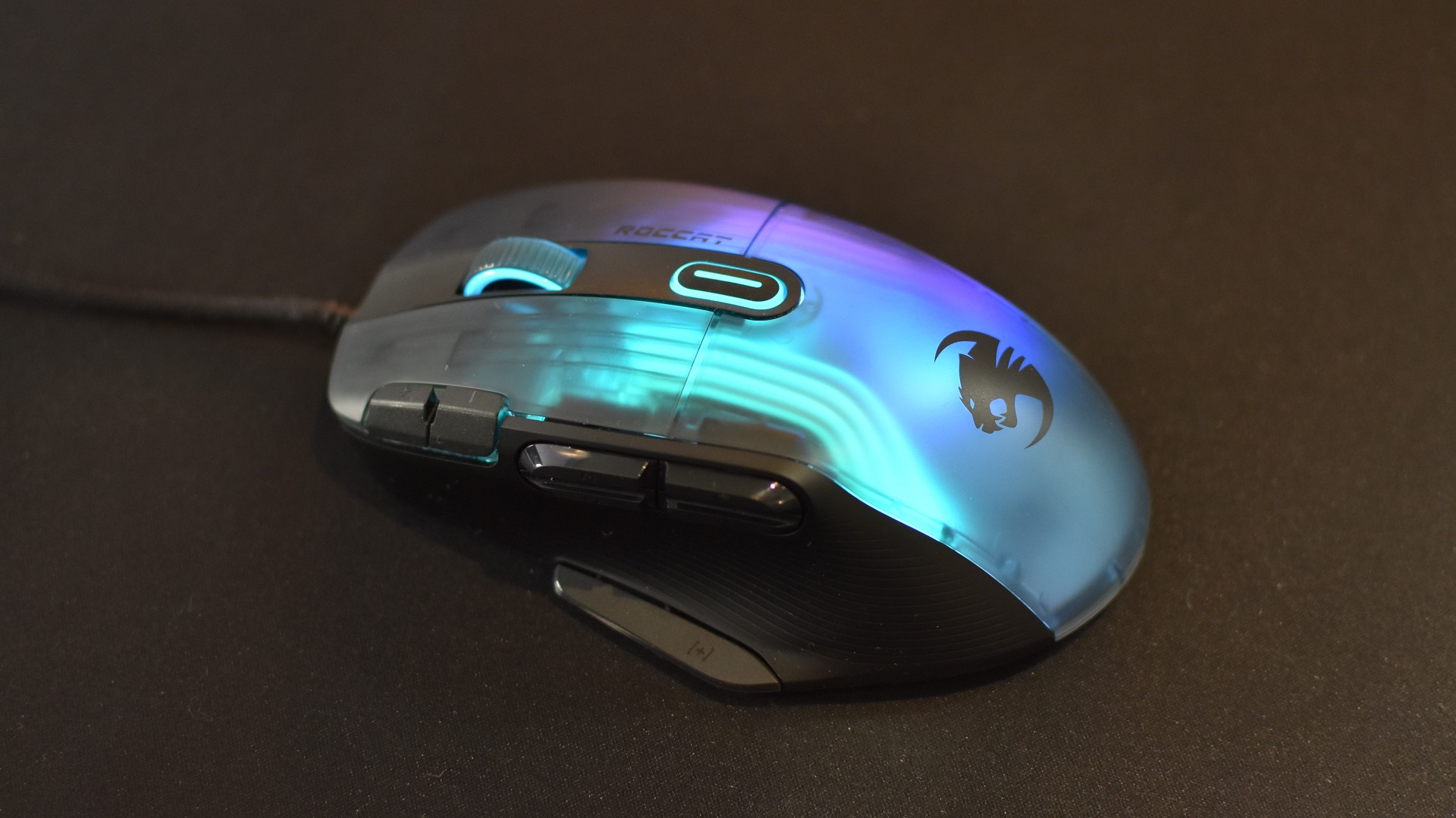 The Razer Naga Trinity (£55 / $70), with its interchangeable side panels, is an excellent choice for the button maelstroms we call MMOs. As is the SteelSeries Aerox 9 Wireless (£90 / $100), which pairs a 12-thumb-button design with a much more lightweight build. But the Roccat Kone XP also manages to stuff a load of extra inputs on board, while maintaining a more familiar, less esoteric design. Other than the extremely prominent RGB, obviously.
Besides having four thumb buttons where there'd usually be two, the Kone XP's Easy-Shift button (the one on the base of the thumb rest) opens up loads of possibilities for extra inputs by allowing you to add another function, hotkey or macro combo to any of the mouse's other buttons. Hold down Easy-Shift, press the button and it will punch in whatever secondary input you added in the Roccat Swarm app. This isn't the first Roccat mouse with the feature, but it's particularly useful on one with as many buttons as the Kone XP.
It gets the basics right too. The Titan optical switches, like most mechanisms designed to work at the literal speed of light, naturally have a focus on pure speed. But I was more impressed by the feel of these switches, which have a brilliantly deep, fat, chunky clicking action to them. Between this and the comfortable, high-arching shape of the mouse, the whole thing feels a lot more well-made and substantial than the clear plastic and rainbow lights might suggest. It's no bauble, that's for sure.
---
Razer Viper
The best ambidextrous gaming mouse
The original Razer Viper is an excellent ambidextrous gaming mouse - particularly now it's much cheaper than it used to be. We recommended the Asus ROG Pugio as well as the Viper due to their wildly different prices in the UK and US, but with Pugio stock levels getting lower and lower and prices going higher and higher as a result, it's now nowhere near as good value as its Razer rival.
Besides, the Viper has a much more tasteful design than the Pugio, and its two main clicker buttons feel more responsive, too. Plus, the Viper is nicely light, coming in at just 69g. This means it's super easy to swish around your mouse mat, and never becomes a drag when you're playing games for long periods of time. Razer's Synapse 3 software gives you loads of customisation options, too. Anyone disappointed by the Viper V2 Pro adopting a purely right-handed design can take solace in the fact that it's most ostensibly basic predecessor remains a brilliant ambidextrous gaming mouse.
---
Roccat Burst Pro Air
The best RGB wireless gaming mouse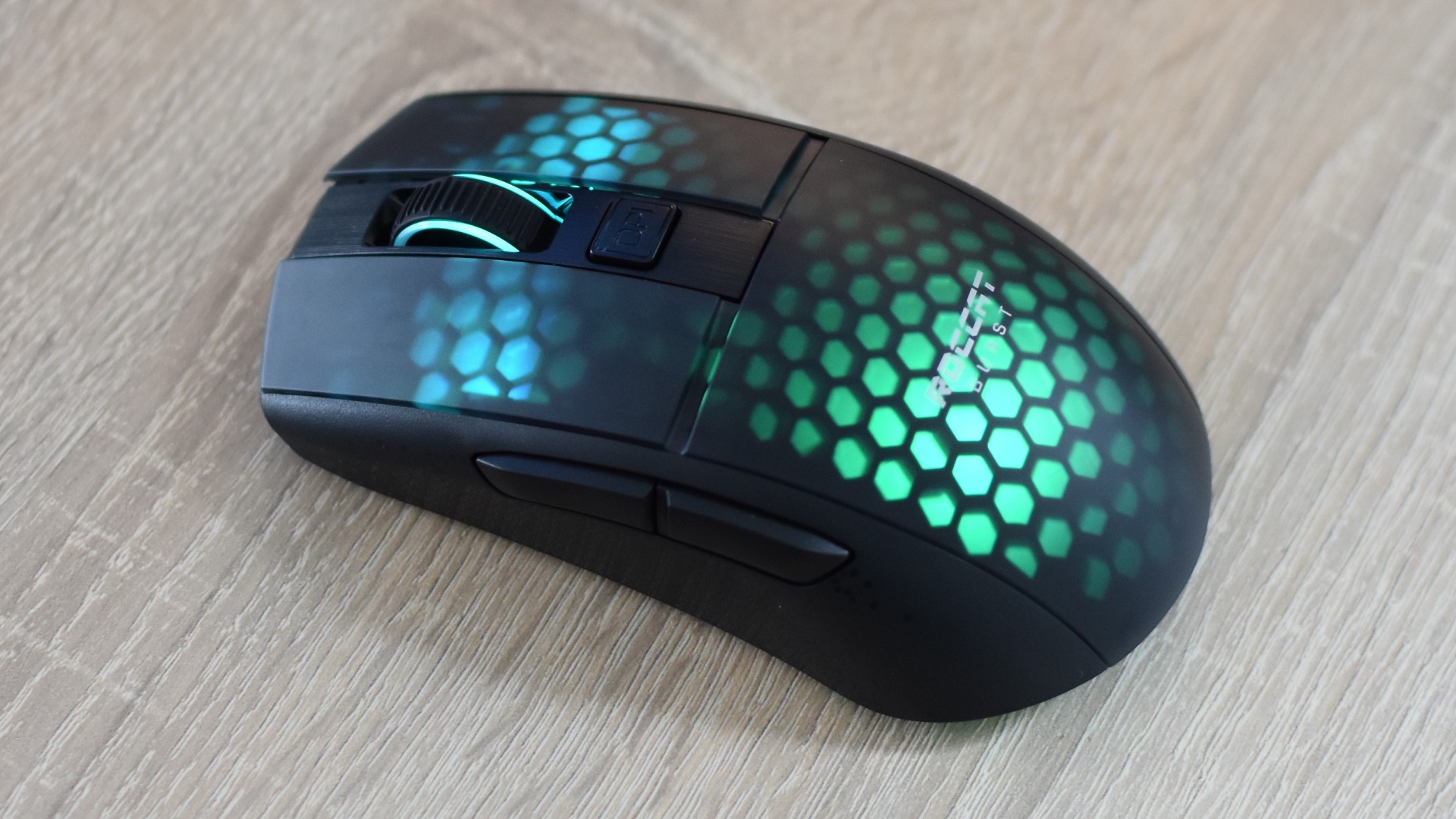 The Roccat Burst Pro Air goes for a far less garish coat of RGB than the Kone XP, lighting up both the top and bottom of the shell and nicely highlighting the reinforcing honeycomb pattern within. The exact colours and patterns can be tailored through Roccat's Swarm software, though RGB effects aren't really the big reason to buy this mouse. That would be simply how nice it feels, even without a thumb rest or even any notably premium materials.
The outwards-flaring shape helps fill out a palm grip very tidily indeed, and the optical clicking switches combine all the speed of optical activation with the deep, decisive click action of a purely mechanical switch. Even the feet pads are great, gliding over surfaces without the slighest hint of turbulence.
It's not the lightest or the longest-lasting wireless gaming mouse, but its tactile qualities alone make the Burst Pro Air one of the best.
---
Gaming mouse jargon buster
DPI: This stands for "Dots Per Inch". It's used to measure a gaming mouse's sensitivity. The higher the DPI number, the more sensitive your gaming mouse will be.
That said, while many gaming mice boast top DPIs in the 10,000s, this is actually too fast for the human eye to keep track with. At best, most people only need around 1600 DPI, or maybe 2000 DPI if you're a twitchy competitive FPS player. As such, don't be put off by mice with lower DPI speeds, as you'll get just as much use out of them as higher DPI mice.
CPI: Counts Per Inch, and another way of describing a mouse's sensitivity speed. This is often only used by Steelseries, though, and is pretty much identical to DPI.
Polling rate: How many times the mouse communicates its position to your PC, per second. A 500Hz polling rate, for example, would report 500 times each second. Gaming mice generally target the 500-1000Mhz range, and there's no real benefit to going higher than this, though cursor movements might not feel as smooth if you manually lower the polling rate below 400MHz or so.
Sniper button: A button that can change a mouse's DPI speed on the fly when it's being held down, often to a very low DPI to help players track headshots in competitive FPS games. Sometimes mice will have dedicated sniper buttons, while others will let you program this feature onto one of the side buttons.
Claw grip: A type of mouse grip that involves resting your palm on the back of the mouse and bending your index and middle fingers into a claw-like shape so the tips of them rest on the main right and left buttons. Professional players often say this allows for quicker, more precise mouse movements, and some mice will be designed with this grip in mind. In everyday use, though, it's very uncomfortable.
Fingertip grip: Another type of mouse grip. This involves using a similar pose to the claw grip, only here your palm sits on your mouse mat, not the back of the mouse. It supposedly makes for faster mouse movements, as you're only moving it with your fingers rather than your whole hand or arm. If you favour this grip, you'll probably want a mouse with extra grippy sides.
Palm grip: This style of mouse grip involves resting your entire hand on the mouse. It's a lot more relaxed than the claw and fingertip grip, and is better for large hand / arm movements. It's probably how you're holding your mouse right now.