Wot I Think: Long Live The Queen
Flattering Fantasy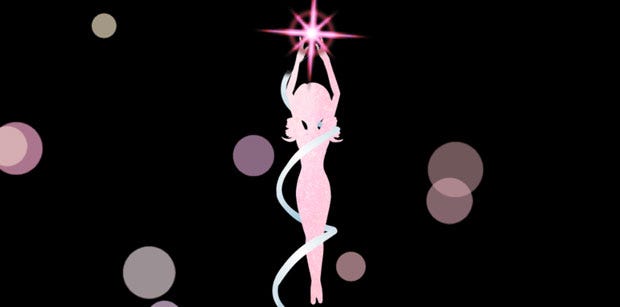 Hanako Games' sweetly brutal fantasy monarchy sim came out last Summer, and sadly I missed it at the time. Pray allow me to rectify that before ordering off with my head.
If the art style puts you off, how about this: Long Live The Queen is a Sansa Stark simulator.

Falling somewhere between life sim and interactive fiction, Long Live The Queen is perhaps most analogous to the stream of chance, learning and misfortune that are the Fighting Fantasy books, only the threats come to you and are dealt with more by stately composure, regal dancing and a thorough knowledge of the kingdom's history than by sword and spell. And if you don't keep up your singing practice you're in for a nasty surprise further down the line, young lady.
LEARN SINGING. SINGING IS VERY IMPORTANT.
Playing as the female heir to a monarchist kingdom, what begins as something of a Princess Maker concept, all making yourself courteous and appealing to potential suitors, quickly becomes an exercise in survival against increasingly present and numerous dangers. Long Live The Queen probably should have been called The Queen Is Dead, but as a fight with Morrissey would probably be deeply tiresome, I respect the choice of wry alternative. Long Live The Queen, you see, is all about getting the young queen killed. Clearly you're trying not to, but like those sadistic Jackson/Livingstone books the game's trying so damned hard to stack the odds against you and trick you into doom that after a time you've just gotta embrace its brutality and enjoy the cruelty of your sudden demises.
LEARN FALCONRY. FALCONRY IS VERY IMPORTANT.
Again, you're like Sansa Stark, a teenage innocent trapped at the eye of someone else's political storm, all eyes upon her, a pawn of the patriarchy, trying her best to stiff-upper-lip through a torrent of courtly expectations and skullduggery, expected to be the perfect gentlewoman whilst simultaneously fighting for her life - but too green to truly understand what's happening around her. Long Live The Queen looks sweet and innocent, but it's a dark, manipulative spider of a thing. It will trap you in its web, and then it will murder you, many times over.
Here's the structure. Each turn constitutes one in-game week, and during that time you'll pick a morning and an evening class from what initially seems like an overwhelming range of choices, be subject to series of scripted events and decisions and indulge in genteel leisure pursuits that will affect your mood. While allowing your wide-eyed charge to become depressed or lonely sounds like a bad thing, in fact each mood provides a learning bonus for specific skills. A depressed queenie, for instance, will get more out of spending time with animals, thus increasing her skills at falconry or likelihood to feed potentially poisoned to chocolates to the dogs rather than eating them herself. Cheerful, afraid, lonely, wilful, angry - positive and negative emotions alike have skills they help and skills they hinder. Choose your mood wisely.
LEARN DOG-HANDLING. DOG-HANDLING IS VERY IMPORTANT.
The essential push and pull of the game is which stats to improve and when, and to knowingly alter the queen's mood in order to buff singing or presence or archery or knowledge of naval warfare or any of the below as quickly as possible, in the hope of thus being able to deal with the next curveball the game throws at you. Perhaps it will be a requirement to dance at the ball. Perhaps it will be to understand that immediately wearing a necklace given as a gift from a man means you're publicly declaring him your suitor. This will, naturally, appal any other nobleman who were planning to court you (and the political gain that entails).
Or perhaps it will be being shot with an arrow whilst undertaking a stage coach journey to a foreign dignitary's birthday party, and attempting to staunch the fatal bleed yourself. Each situation, be it a matter of social peril or mortal peril, can be overcome, but it requires the queen to suitably adept in whatever ability the game deems appropriate.
LEARN BATTLEFIELD MEDICINE. BATTLEFIELD MEDICINE IS VERY IMPORTANT.
The barrage of events and crises comes so quickly and so unpredictably that there's no real way to prepare yourself or pick a ironclad strategy on your first couple of plays. I think for some people this may be a dealbreaker, because it can feel so much like you're at the whims of chance and trickery, and because it means you put a lot of time, energy and anxiety into trying to do the right thing only for it to end up wasted and lost when a leftfield death - drowning, stabbing, poisoning, falling, banditry, foreign invasion, sorcery - hits out of the blue.
Assorted colleagues and allies have observed that the death system, the sudden loss of all your investment, is too punitive and too frequent in the game's mid-to-late stages, as the kingdom falls into all-out war and magic enters the fray. I take their point, but even aside from gesturing archly at the Save Game option I'm enjoying the nastiness, that I'm being so kept on my toes, that I've got a game building high drama and blood-freezing dilemma out of whether to spend an afternoon learning to dance or studying foreign politics.
LEARN TO DANCE. DANCING IS VERY IMPORTANT.
LEARN FOREIGN POLITICS. FOREIGN POLITICS IS VERY IMPORTANT.
Here's a mid-game example of everything going spectacularly wrong. I should point out that I'm aware from previous experiences that I've very much painted myself into a corner here, which is why some of my choices seem entirely reckless. That's my story and I'm sticking to it.
In parallel to the queen learning how to be a queen, I'm learning too, a silent reflection of her graft. I'm learning from mistakes, by which I mean my sudden and usually humiliating deaths. It's not so convulted that I need a notebook, but it does mean I'm anticipating certain scenarios come my next playthrough and preparing for them. Though that might sound like passionless rote learning, the inherent chaos theory of the game means that I'm activating new and perhaps even more bastardly options from its sprawling database of punishment.
Because I'm trying to force the queen to, for instance, up her sword skills so that she won't get slain by a vengeful orphan at a prize-giving ceremony, doing so necessitates abandoning my attempts to learn accounting in order to bluff my way into the treasury to obtain an important doohickey. Which means I have to do something else to obtain said doohickey, which turns out to involve Very Bad Things. Or perhaps it means I don't become adept at flattery, which means I wind up commenting on the sizeable diameter of someone's breasts whilst attempting Austen-esque scorn.
LEARN FLATTERY. FLATTERY IS VERY IMPORTANT.
LEARN ACCOUNTING. ACCOUNTING IS VERY IMPORTANT.
LEARN SWORDFIGHTING. SWORDFIGHTING IS VERY IMPORTANT.
Every stumble, every embarrassment, every death is being logged in my own personal database, which concurrently with slowly grasping the maths of moods necessary for rapid mastery of skills is eventually going to take me to a point where I can be a queen with a legacy, or at least a legacy more than 'pathetic pool of blood and/or ash on a castle floor'.
By all this I mean that Long Live The Queen is an exceptionally clever game which asks a great deal of its players without really seeming to. I appreciate that regularly having a lot of hard graft and concentration thrown to the winds can be acutely frustrating, and that progressing further through the game necessitates no small amount of repetition, but I think that's part of it. I don't mean that in the 'better living through suffering' mandate of a Dark Souls or Dota, but rather that the duty and despair of it all befits the character you're playing as. Poor old Sansa.
A regent to be sounds glamorous, but surely involves so much devotion, piety, study, restraint, drudgery and terror in order to deal with the unending politicking, conflict and intrigue that swirls and escalates around you and about you. The more you suffer and fail, the more you repeat and the more you feel like Sansa Stark fixing that dutiful smile on her terrified face and trying to make it through another day with her head still attached to her shoulders.
That said, I think the mortal threats perhaps do get a little too thick and fast at times, and while savegames can get you out of a few tight spots it's all too easy to make critical errors at early points that can't be undone without starting over entirely, and all the repetition that entails. That actually bothers me less than the inclusion and later important of magic, though. I'd much rather this was a purer (if heavily fictionalised) renaissance-era royalty sim than falling fully into fantasy. I want to focus on learning horse-riding and history and naval strategy and elegance, not divination and spell-resistance.
LEARN HORSE-RIDING. HORSE-RIDING IS VERY IMPORTANT.
LEARN HISTORY. HISTORY IS VERY IMPORTANT.
LEARN NAVAL STRATEGY. NAVAL STRATEGY IS VERY IMPORTANT.
LEARN ELEGANCE. ELEGANCE IS VERY IMPORTANT.
LEARN DIVINATION. DIVINATION IS VERY IMPORTANT.
LEARN SPELL-RESISTANCE. SPELL-RESISTANCE IS VERY IMPORTANT.
But the magic does open up new paths, new story, new suffering, new successes so I don't really begrudge its inclusion.
My greatest regret with Long Live The Queen is that I didn't play it before December 1st 2013, because you can be damned sure I'd have fought for it to go in our games of the year advent calendar if I had. The queen is all kinds of dead. Long live the queen.
LEARN EVERYTHING. EVERYTHING IS VERY IMPORTANT.

Long Live The Queen is out now (and has been since last Summer), either direct from the devs or on Steam.