Tap that wiz: Magic Duels adds Aether Revolt expansion
Battle me, wizzo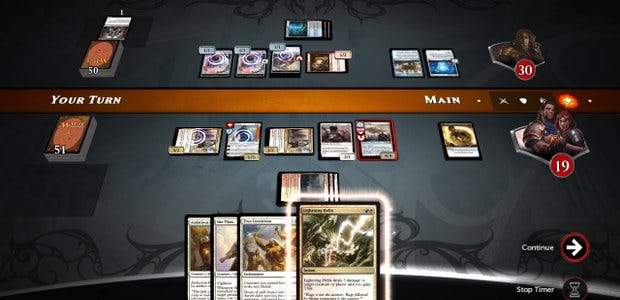 Magic: The Gathering launches today its latest expansion, Aether Revolt (the 73rd, if you're counting), and it's already out in Magic Duels [official site]. Continuing to lark about with artifacts, energy counters, and vehicles on the pretty plane of Kaladesh, the expansion adds 124 cards to Magic Duels. The streamlined free-to-play take on the wonderful collectible card game has largely kept up with its cardboard daddy, which I've found mighty helpful as someone who likes keeping up with Magic goings-on but is not allowed to buy cards ever again ever. This latest cardblast keeps me safe a little longer.
The Aether Revolt update launched yesterday, bringing a wodge of new cards and another wee story campaign. As ever, the story has five battles telling stories from the expansion with themed pre-built decks and boss battles and all that. Yeah, I enjoyed an hour going through those battles.
Magic Duels expansions are still only some of the cards from the full cardboard expansion, mind, missing many. Duels tries to curate a different sort of meta, which is sort of interesting but I imagine frustrating if you want Real Proper Magic. I understand Duels is still a little wonky with some intricacies of Magic rules too. I'm happy poking at it, but more serious wizards might prefer Magic Online or one of the many bootlegs.
The master Magicians at Wizards of the Coast have been muttering about "reimagining digital versions of Magic and other Wizards games" at their new Digital Games Studio. They also say they "bring our characters and worlds to other games and experiences", casually throwing out ideas of Magic MMOs and augmented reality Dungeons & Dragons. I think this is all dreams and concepts rather than the announcement of specific plans, mind.