Make War Not Love 4: Sega's cross-game non-Valentine's event brings discounts and rewards
Crossing the streams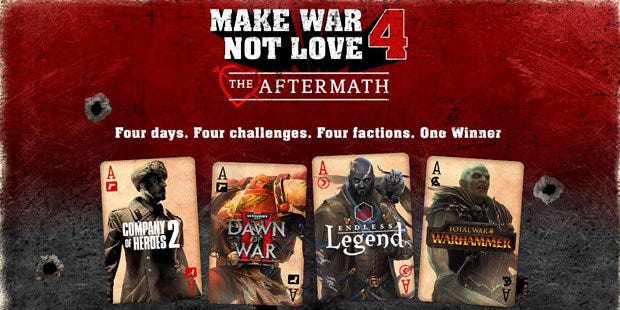 Make War Not Love [official site] - Sega's cross-game point collection event which aims to stick it to Valentine's Day while also raising awareness of their games/rewarding fans - has returned for a fourth outing. This year it technically started on Valentine's Day but the real meat of the event kicks off yesterday and involves Company of Heroes 2, Endless Legend, Dawn of War 2 and Total War: Warhammer.
SO. The broad idea is that Sega are pitting the four studios behind those games and their related communities against one another as factions in a competition. Winners will be crowned for events taking place daily from 16-19 Feb and that faction will win DLC for its followers. There will also be an overall winner and more prizes in the form of digital content for the game in question.
My favourite thing about the announcement video is about the 1:35 mark where it sounds like they've edited it to say "available to buy at great discounts" instead of "fff" - free, perhaps?
Even though the competition is underway you can still register and pick a faction to ally with as well as the games being fff- available to buy at great discounts.
From [Feb 16th] until Feb 20th, up to save 80% off the Dawn of War franchise, up to 75% off the Company of Heroes franchise, 33% off Total War: Warhammer, up to 75% off the Total War franchise and up to 75% off the Endless franchise
There's also an art contest which is partly about Sega picking their favourite artwork for a faction and partly about a numbers competition relating to how many times particular images are shared on social media.
The final showdown is happening as part of the PC Gamer Weekender which, I believe, is an RPS tribute convention and meet-up hosted by cheery RPS fanzine, PC Gamer. The two leading factions will compete against one another in their respective games for points, glory, digital content and so on.