Mars Attracts Me: The Red Solstice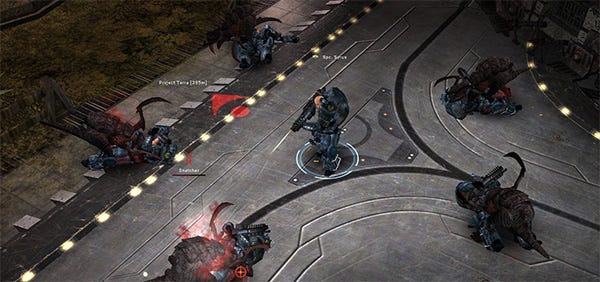 Survivalist squad shooter The Red Solstice looks pretty tasty, at least in concept. Based on a Warcraft 3 mod called Night of the Dead, it's now a monsters on Mars affair but with a distinct zombie feel. Scarce resources, buildings with dodgy lights, horrifying injuries, that sort of thing.
There's an alpha doing the rounds, though the entrance requirements are a little insulting, so for now I'd advise just watching these videos and seeing if top-down Red Planetting is your cup of Inevitable Death-Tea.
Update - ah, there's now a more freely-available alpha/demo too.

More details on the various features and how they all come together here. Sounds, and even looks, a bit like a much more involved Alien Swarm to me, and that's something I rather suspect I'd enjoy.
If you fancy a bit of that right now-ish, you can apply to the 'open alpha'. All you need to do is
Like our facebook page
Support us on Greenlight
Join the newsletter
Register at our forums
Oh, get lost. To my mind at least, turning interested folk into walking billboards is not the best way to create buzz for your videogame.
UPDATE: Oh. Either I found my way to completely the wrong place or this wasn't well-presented on their site, but apparently they've moved on from Like-tyranny to supplying a new key in this thread every weekend, and there's also a prologue/demo available for anyone to play right away. You should do that!