Massive Chalice Spills Out Of Early Access On June 1st
Passing on its genes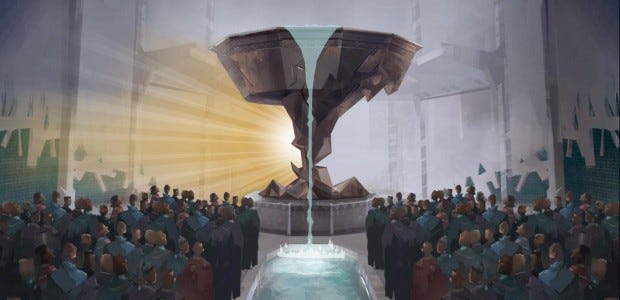 Anyone else picture a KFC Bargain Bucket whenever you hear the words Massive Chalice [official site]? No? Just me? To be fair, I think about KFC all the time so it's possible there's no causation there. Regardless, I've already planned to sit down with a massive chalice of chicken when I tuck in to the full release of Massive Chalice's turn-based genetic tactics on June 1st.
Version 1.0 of Massive Chalice will include a bunch of new features, with an emphasis on polishing and bugfixing. Feedback has been taken on board and the mid- and late-games have been balanced, so that they are "more fun". It will also have full controller support (with a dedicated controller UI) and achievements. If you haven't already, make sure you see what Marsh thought of the game back in November.
Double Fine will be hosting a final Massive Chalice Twitch stream on launch day, in case you'd rather watch someone else play than do it yourself. Or you could watch the documentary series Massive Knowledge, produced by Two Player Productions, which promises to give insight into the team behind the game and their journey up the games industry ladder. There's enough passive entertainment here to keep you from playing Massive Chalice for days, if necessary.
Now that Massive Chalice is out of the way, hopefully we'll be hearing more about that Day of the Tentacle remake any day now. All I need is one screenshot to keep me ticking over. Come on Schafer, you know I'm good for it.