Memoranda Is A Magical Realist Adventure Game
Inspired by the works of Huruki Murakami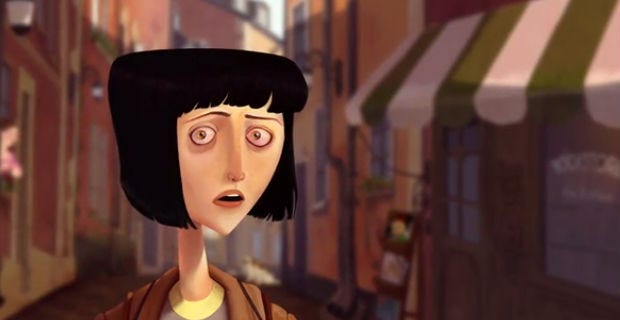 Inspired by the surrealistic tales of prolific Japanese author Haruki Murakami, Memoranda [official site] is a stylish 2D point and click adventure with a protagonist who has forgotten her name. Although first convinced she's losing her memory, she discovers her neighbours are losing things too - possessions, memories, mental stability - thus sets off to meet people and solve puzzles in order to get to the bottom of the hows, whys, wheres and whens of the matter. Already three years in the making, it's now turning to Kickstarter for cash for the final push.
Everything about Memoranda seems quirky, not least its art style, which seems to add to its charm. The characters have their quirks, the plot has its quirks, and the setting has its quirks - a quaint town where modern technology exists alongside archaic handcrafts - "a town where there are both laptops and bamboo water clocks" - European-like in architectural design; yet not specifically in Europe.
Check out the game's Kickstarter trailer here:
Looks pretty, doesn't it? According to a Kickstarter update post, Huruki Murakami's Facebook account operator thinks so too, after sharing a link to Memoranda earlier this week.
At the moment, Memoranda has a wee bit yet to go on its active Kickstarter campaign, but at the time of writing has accrued over $15,000 Canadian towards its $18,000 goal with plenty of time left on the clock. Developers BitByterz say, "To finish the development, which includes sound design, code optimization and debugging, and plug-in purchases, we need additional support."
They hope to release Memoranda on Windows, Mac, and Linux in December. In the meantime, why not have a look at these screens?