Microsoft Flight Simulator is getting a free Top Gun expansion this autumn
It's a lovely day on the planet and you are the killer of Goose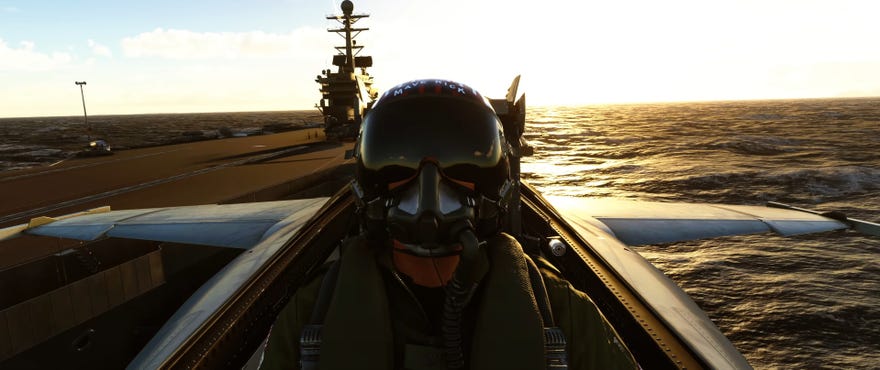 The larger part of the Microsoft Flight Simulator announcement at tonight's Microsoft E3 showcase was that it's coming to Xbox Series X|S. There was a brief glimpse of something for us at the end of the trailer, though: there's a free expansoin coming later this year to tie-in with Top Gun: Maverick.
The whole trailer is worth watching, for the inspirational tourism porn, but you can also skip to 1:45 if you just want to see Maverick:
It really is a brief glimpse. We see an aircraft carrier, we see a few different kinds of fighter jet, we see Maverick, albeit never without a helmet. That's about it.
One of the things I see most commonly requested regarding Flight Simulator is a revival of 1998's Microsoft Combat Flight Simulator, a Flight Sim spin-off that added World War 2 fighter planes and dogfighting missions. The trailer for the Top Gun tie-in doesn't show any combat or missiles being fired, and I'm guessing the expansion won't include any. I'm thinking this is just about simulating some planes what go very fast.
The expansion is due for release on November 19th according to the Xbox blog, the same date as the new Top Gun movie.
Looking around the MSFS community, people seem more excited for the moment 46 seconds into the trailer where you can see the seaplane now leaves a visible wake in the water as it lands or takes off. Gotta love the sim fans.
---
E3 2021 may be over but our memories live on - see everything on our E3 hub. Many more big game showcases and streams are still to come this summer, leading up to Gamescom, so see our summer games stream schedule to stay up to date.