MLG's StarCraft 2 Anaheim Tourney, Live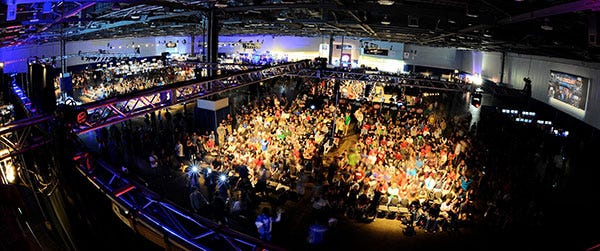 Major League Gaming's latest pro-gaming tournament kicked off in Anaheim earlier today, and will be running all weekend. If you're in Southern California, you should get yourself down to the Anaheim Convention Centre to see some of the world's finest StarCraft II players go head to head. If you're not local, you can watch the face-offs as they happen with the livestream below.

There are two streams, Red and Blue, which you can switch between with the button on the bottom-rightish of the video. If you're so inclined, you can also pay for access to higher-quality streams with stuff like rewinding and no ads here.
More info about the Anaheim event and its players:
Live Stream Schedule for all games including specific matchups and casters (PDT).
Special activities and meets with pro players and casters.
Complete coverage guide with previews for all game and lists of players.
Oh, and also happening this weekend are the EVO World Championships and GSL Finals, so this is quite the weekend for e-sports. Possibly the biggest ever?