Mothergunship expands with free story missions, enemies, ships and a new boss
Guns. Even more lots of extra guns.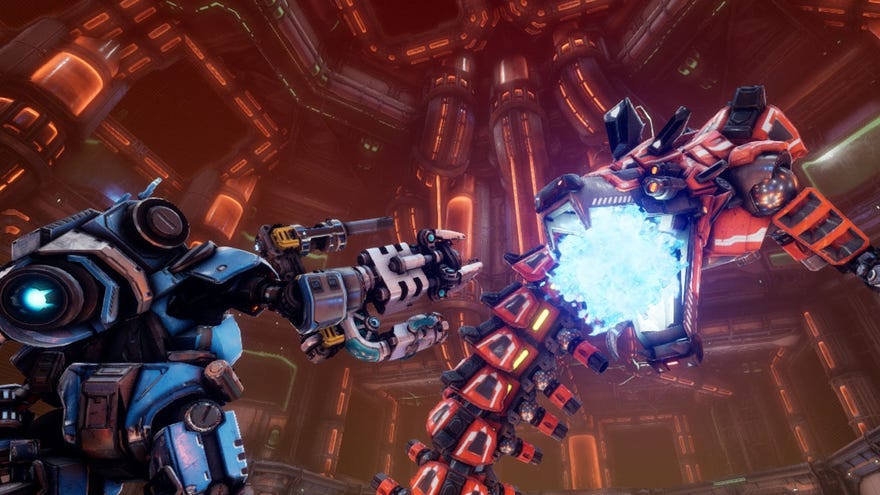 I was looking for an excuse to return to roguelike FPS Mothergunship, and today's free "Namengineers" update looks like a fine reason, adding a little more of everything. When I reviewed it in July, I thought it was technically impressive but still a little under-baked, with too few environments, enemy types and an oft-frustrating economy. Looking at the patch notes for today's update, Grip Digital claim to improved on all that, tightening its gun-crafting systems and adding a new playmode encouraging building very big, daft guns. Below, a brief peek at a new environment type.
The headlining feature of this update is a new story campaign called "What's in a Name?", featuring new characters, and hopefully building on the awkward cliffhanger ending of the original launch. The alien fleet now has a new ship type, which looks defined by its cool blue aesthetic and crackling lightning panels. There's some new enemies to fight across all environments - four new basic opponents, a new boss (the Dragon Train, pictured above) and mini-bosses integrated at the end of levels.
A wild [MOTHERGUNSHIP NEW SHIP NAME REDACTED] ship has appeared! Update coming...soon. Maybe we'll talk about it..on stream..in a few hours.. #indiedev #UE4 #Gamedev pic.twitter.com/KiKN1c4HLD

— Mothergunship (@mothergunship) September 28, 2018
There's new gun parts to find (and new ways to tap into your personal stash once a mission has begun), new room types, more music and the new map-set has been added to the endgame which should help bump up replay value. Grip Digital and Terrible Posture Games (co-developers) reckon they've improved balance too, with the early-game story missions being easier to get through, while the endgame should ramp up harder. Lower tier guns should be more viable and the most frustratingly bullet-spongy enemies should be a bit more fragile. All good.
The new mode (unlocked after beating the new story stuff) is focused on building up weaponry using parts from your stash instead of relying on random shops and item drops, which should make for some interesting feats of min-maxing. This isn't the first major update for Mothergunship since launch. The Friend-ship update added online co-op, as well as adding a few new bits of content and beginning rebalancing, though nothing quite on the scale of today's patch. I admit that I've not had a chance to poke around since my initial review, so I'm eager to see how the game feels now.
Mothergunship is out now for £19.99/$24.99/€24.99, via Steam and Humble. You can try out its gun-crafting system for yourself in this demo.