Have You Played... The Ship?
Share your stories, please!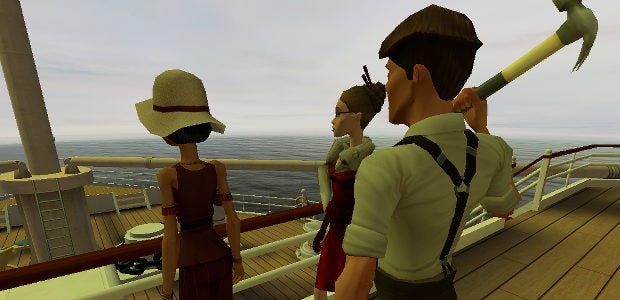 Have You Played? is an endless stream of game recommendations. One a day, every day of the year, perhaps for all time.
If so, please tell me stories from it. I have played The Ship - in both its original mod and standalone forms - but never at the right times. I was enticed into the open-ship murder simulator by pals' tales of stalking prey from deck to deck, of bluffs and double-bluffs and needing to wee at the most inopportune moment. I missed the glory days and mostly stumbled around ineptly dying. But if you have stories, do share, won't you?
The Ship, for those who haven't played it, is a multiplayer first-person social FPS set about a 1930s cruise ship. Everyone is given a target to kill, and must sneakily take them out with whatever weapons they can find without anyone else noticing - and without being killed, because they're also someone else's target. Complicating matters are a variety of personal needs you must attend to - eating, sleeping, washing, being entertained, wazzing, and so on - so you can't simply find a hammer then hunker down in a corner. And you might be watching for someone stalking you with a frying pan, but are you watching out for lifeboats falling from above?
All of this can lead to absurd situations and stories, which I've enjoyed very much over the years - and sadly have few of my own to share. So please, have you played The Ship? Tell me some stories, won't you?