Naturally: EA Is Making A MOBA Too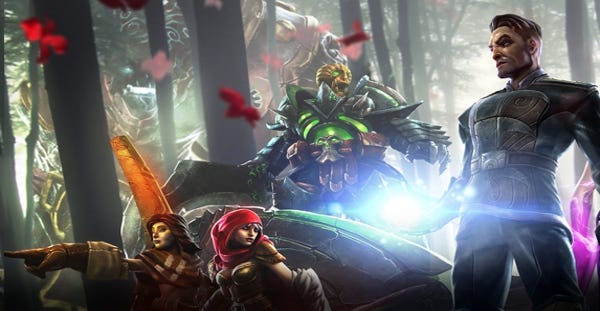 Here's a sobering revelation: your parents probably wish you were a MOBA. I mean, they thought they wanted a doctor or a fireman or a pioneering, cancer-curing geneticist when they first birthed you, but these days, everyone is making MOBAs. All your folks can do now is mourn what could have been. So it went for EA, too - casting sullen, disparaging glares at John Madden and Dead Space guy alike - until now. Via a website we weren't supposed to know about yet, the publisher accidentally revealed Dawngate, a fantasy-themed battler that vaguely claims to offer "a whole new way to experience MOBA gameplay." What does that entail? Beats me. Details are scant at the moment, but you'll find a few others after the break.
First off, here's the full description, which presumably alludes to robust character customization and user-generated content:
"Dawngate is a new MOBA, built from the ground up to look and feel familiar while offering a whole new way to experience MOBA gameplay. Dawngate empowers you to forge the champions you love for the roles you want in a competitive arena, shaped by ever-evolving, community-driven content and story."
It apparently heralds from a previously unheard of developer called Waystone Games. Internet info godfiend and master of secrets superannuation points to some MOBA-related job listings from Visceral last year as a likely culprit - which makes sense, given all of EA's recent nip-cuttery in the name of "restructuring".
I imagine we'll know for sure soon, seeing as an official announcement seems exceedingly imminent. For now, though, Dawngate's website is the wispiest of skeletons, a gate not to dawn but a series of empty social media pages and NOT FOUND screens. Oh, but I just discovered that beta signups are functional, so you might as well do that if you're interested.
More soon? Here's hoping. (More information, that is - not MOBAs. We already have enough of those to last us until long after modders invent another incredibly specific genre that big companies immediately proceed to pounce on.)