Near Death Is A Survival Sim From The Novelist Devs
Come in from the cold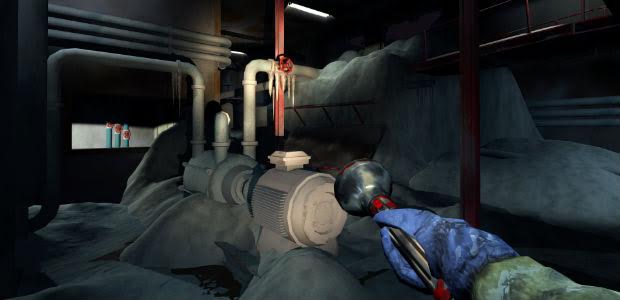 The Novelist was a thoughtful hands-off Poltergeist-meets-Gone Home-type endeavor, and Near Death [official site] marks a distinct change in direction for developers Orthogonal Games. Announced yesterday, the Californian outfit's upcoming survival-a-thon pits you against the elements and is the result of the developer's lifelong fascination with Antarctica. Come see it in motion after the drop.
The game begins as you crash land at an abandoned Antarctic research facility and from there, your thrown head first into a deadly blizzard, where temperatures of minus 100 degrees stand in the way of your survival. What's more, besides a distinct lack of food, water and companionship, features such as a dynamic real-time temperature system - that can freeze and thaw environments "room by room," apparently - make getting out alive all the more challenging.
Have a gander at some of that in practice:
While isolation is a central theme in The Novelist, it's portrayed by way of faltering family relationships and well-kept secrets. Here, as you'll no doubt have spotted above, isolation takes a very literal guise, as you go it alone against some less than forgiving conditions. Story-wise, details are thin on the ground for now, however it'd be nice to see a narrative relayed in similar style to the notes and letters found littered around The Novelist's grounds.
Here's Orthogonal on how the idea for Near Death was conceived:
"Originally started as another mostly-solo project after The Novelist, the idea for Near Death grew from a lifelong fascination with extreme environments and Antarctica in particular. After doing extensive research, including interviews with actual Antarctic scientists and travelers, Kent Hudson created a deeply simulated prototype of Antarctic exploration and base management, rooted in the survival game genre. Realizing that the traditional mechanics of survival games didn't capture the visceral, moment-to-moment terror of Antarctica's overwhelming storms and extreme weather, he abandoned the survival genre and refocused the game on the intense, immersive experience of fighting to live in a world that does nothing but try to kill you."
Near Death is expected to release at some point later this year.