NEARLY FINISHED HIM! Street Fighter X Tekken PC Date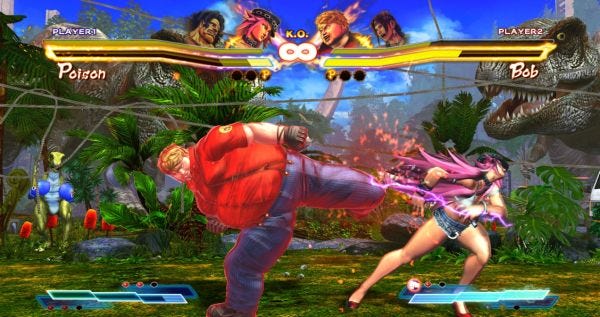 Capcom's on-again-off-again romance with the PC seems to be firmly set to ON at the moment. Not only is Resident Evil 6 slated for a PC release this November, but Street Fighter X Tekken is set for PC in May. 11th May to be precise. That's a strange two months later than the console release, but it's still an interesting release for a platform that isn't exactly overwhelmed by 'fighting' games. We've got the five new PC screenshots below.
The ludicrously titled game is fairly obviously a crossover of Soul Calibur and Dead Or Alive... aha! I made a joke. It in fact has 38 characters from the titular games, and will apparently be the "ultimate tag team match up".
I guess I don't know much about whether the PC has all the appropriate peripherals for this genre. Although I figure mapping the 2390453 different moves to a keyboard would bring button mashing techniques to a whole new level. Anyhow, here's how the game's looking in our department:
I reference Mortal Kombat only to make people like Leo Tan's heads explode.