New Asus ROG Ally specs play a numbers game with the Steam Deck
More hardware info released ahead of May 11th launch event
A few weeks after the Asus ROG Ally was confirmed as a real thing, we have something that was missing from its faux-April Fool's reveal: a proper look at the handheld PC's hardware specifications. And from the boldness of its screen to the speed of its microSD card slot, the ROG Ally is already looking set to best the Steam Deck on cold, hard specs.
What we don't hazve are the ROG Ally's pricing and release date, though word from Asus is the former will be announced on the 5th of May and the latter will get final confirmation at a launch event on the 11th (Update: I'm now hearing that pricing will instead be announced on the 11th as well.). For now, let's cast our eyes over the confirmed specs and features, before indulging in a spot of chin-stroking about what they mean for the ROG Ally and its chances of upending the Steam Deck as the portable gaming PC to beat.
Asus ROG Ally specs
Design and connectivity
Weight: 608g
Dimensions: 280x113x39mm
Xbox-style controls with 2x rear macro buttons
Dual Dolby Atmos speakers
Dual cooling fans
1x USB-C with DisplayPort
1x Asus XG connector (for external GPUs)
1x headphone jack
1x microSD slot
WiFi 6E
Bluetooth
Fingerprint unlock
Haptic feedback
Display
7in IPS
1920x1080 resolution
120Hz refresh rate
AMD FreeSync support
1000:1 contrast ratio
100% SRGB gamut coverage
500cd/m2 peak brightness
Gorilla Glass DXC anti-reflective coating
Performance and storage
AMD Ryzen Z1 or AMD Ryzen Z1 Extreme APU based on Zen 4 architecture
RDNA 3 graphics
16GB LPDDR5 RAM
512GB PCIe 4.0 SSD (M.2 2230 form factor)
UHS-II microSD support
Software
Windows 11
Asus ROG Armoury Crate SE
Control panel overlay
AMD RSR
Customisable key mapping
It's not hard to look at this list and pick out bits that represent a targeted one-upping of Valve's handheld. The screen, for instance, has both a higher resolution and twice the refresh rate of the Steam Deck's 800p, 60Hz display – and although I recorded the Deck reaching a superior 1241:1 contrast ratio and 596cd/m2 peak brightness, its 63.7% sRGB coverage was the weak link. A screen that's both sharper and more vibrant would easily make up for minor differences in brightness and contrast. That DXC anti-reflective coating also comes as standard on the ROG Ally, as opposed to the Steam Deck, which only offers glare protection on its most expensive 512GB model.
That said, there only appears to be one ROG Ally storage option, also a 512GB SSD. But as this is a PCIe 4.0 SSD, itt should be faster than any of the PCIe 3.0 drives you'd find in a Steam Deck. The ROG Ally supports faster higher microSD card speeds, too, by virtue of its expandable storage slot using the UHS-II interface. This standard allows for read speeds up to 312MB/s, up on the 104MB/s peak of the Steam Deck's UHS-I interface. These aren't sustained speeds, however, so if the ROG Ally can produce faster game load times, they're much more likely when a game is installed on the SSD.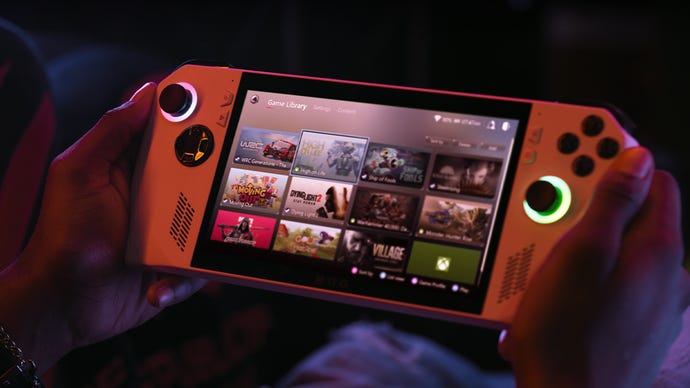 A more clear-cut advantage for the ROG Ally is game compatibility. It runs Windows 11, and Asus has confirmed this means full compatibility with the Epic Games Launcher, Xbox launcher, the EA app, Ubisoft Connect, Battle.net, and one other. What was it. Oh ya, Steam. No need to rely on the cloud to play your PC Game Pass games or faff around installing the Epic Games Launcher on the Steam Deck – if the ROG Ally's internals can run it, it will run, and the bundled ROG Armoury Crate SE software can even pull games from all the different launchers into one combined library.
While Armoury Crate is one step from bloatware on desktop PCs, it sounds like it plays an important role on the ROG Ally. It basically serves as the equivalent of the Steam Deck's customised SteamOS, providing a control panel overlay in games and serving up additional tools to customise key mapping, thumbstick and shoulder button sensitivity, or haptic feedback force. I've also glimpsed in that overlay an option for AMD Radeon Super Resolution – RSR being a version of AMD's FSR upscaling tech that operates at the driver level, making it usable in games that don't natively support FSR proper. A bit like how the Steam Deck bakes in FSR at the OS level, for the same purpose. Upscaling support naturally bodes well for the ROG Ally's gaming performance, though sadly this is one area that Asus is leaving unexplored.
For what it's worth, I think they're taking the right approach by using purpose-built APUs in the Ryzen Z1 and Z1 Extreme (expect two separately priced models with each respective APU). Previous Windows-based Steam Deck rivals, like the Ayaneo 2, have tried to outperform it by slapping in off-the-shelf laptop chips - chips that ultimately prove too inefficient for a handheld games device with an unavoidably tiny battery. The Steam Deck went the custom-built AMD route, allowing it run modern games for longer.
The ROG Ally also has the benefit of using a newer generation of processor tech, the Z1 series being based on AMD's Zen 4 architecture and using RDNA 3 graphics. The Steam Deck, remember, employs Zen 2 and RDNA 2. Of course, without benchmarks it's impossible to say whether this will all translate into a real gaming performance advantage for the ROG Ally. And, even if it does, we still don't know if that performance will be balanced against battery life. Or how much you'd have to pay for the privilege.
That's why it's probably not worth getting too excited about the ROG Ally just yet. If it turns out to slap the Steam Deck around on performance, while lasting just as long and without costing silly money, then by all means hail the new king – I'll probably be doing it with you. But as nice as it might be to have a more colourful screen or fingerprint unlocking or a quicker microSD card slot or slightly quieter fans, the three core pillars of a portable gaming PC are surely performance, battery life, and price. The newly released specs contain pretty much everything you'd want to know about the Asus ROG Ally, except those three.
Still, at least we won't have to wait long to find out more. Stay tuned for the price announcement and launch event next month, hopefully with independent tests to follow shortly after.