New Modern Warfare 3 Shot Heralds QUIZ!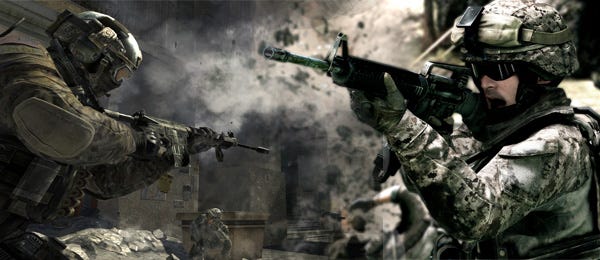 I've noticed a mistake that's being made by a couple of publishers. EA and Activision both plan to release shooty-man games before Christmas, about some soldiers with some modern weapons having a big fight. One is called Battlefield 3 and the other Modern Warfare 3. But the weird thing is, the two companies keep taking potshots, saying their game isn't like the other. But, see, they really do look like each other. I wonder if they've just not looked at the screenshots of their rivals' game, or something. In fact, I've prepared you a quiz!
I attempted to use some fancy plugin technology here, but it was just plan fiddly. So you'll need to use pen and paper. Or maybe notepad.exe if you've got one of those new-fangled computers to hand. Can you tell which of the following pairs of screenshots belong to which game?
1) On The Street
a)
b)
2) Kicking Up Dust
a)
b)
3) In The Open
a)
b)
4) From Above, I Guess
a)
b)
5) Um, More Soldiers
a)
b)
6) Explosion!
a)
b)
So, with all your answers written down, how did you do?
Answers
1)
a - BF3
b - MW3
2)
a - BF3
b - MW3
3)
a - MW3
b - BF3
4)
a - BF3
b - MW3
5)
a - MW3
b - BF3
6)
a - BF3
b - MW3
Which is all my rather roundabout way of telling you there's a new Modern Warfare 3 image. It was that last one. You can click on it below to see it bigger.