New Mutons: More XCOM Remake Glimpses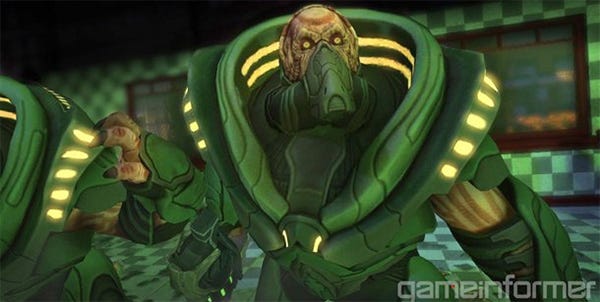 We'll have a very big chat with the XCOM: Enemy Unknown devs at Firaxis up for you at some point in the next few days, but in the meantime an American magazine has released a few more screenshots of the strategy reimagining of darling old X-COM. The magazine's post also shows off some of the tactics you'll be using, how a battle might play out, a little on the (inevitably) contentious new movement/action system and perks and - you'll like this - the destructible environents. Plus a close-up peek at the new-look, slighty Stroggy Mutons. I've snuck a couple of shots below and hope it won't result in a threat, but there are many more, plus vital descriptions over here and over here.

Conveniently explosive gas station:
Enviro-boom:
A more familiar view:
Sectoids, sprinting, cover:
Class and perk stuff aside - impossible to make useful comment until I've tried that stuff myself - it's looking more like it, isn't it? The American magazine's dripfeed of information a bit of a tease in a way, but I suppose that's the point. I'll be bringing you much more detail very soon though, promise.