New Ravaged Trailer Flips Trucks, Birds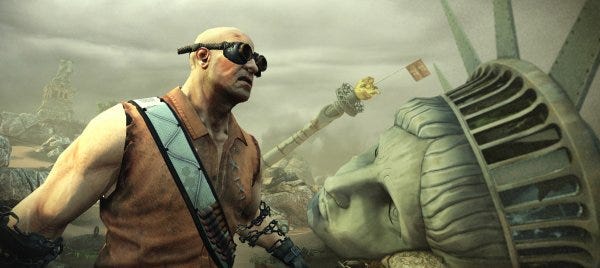 Remember Ravaged? Judged on looks, it's the result of a scintillating, sensual night of passionate discussion about how it'd be really cool if there was a multiplayer shooter that mixed Battlefield's raging multiplayer with RAGE's battlefields. And now, via the natural miracle that is game development, here we are. The new trailer comes as part of something big 2Dawn is "about to kick out the door" (read: probably the beta), and features so many explosions that we may well be in the post-post-apocalypse before this thing is over. Stick around long enough and you'll also catch a faint, middle-finger-flavored hint of Duke Nukem in there because... I don't really know. The rest looks quite nice, though. Dig beneath this post's irradiated ruins to give it a watch.
Currently, Ravaged is set for full release sometime this summer, but a pre-order will net you beta access and maybe a pony. But probably not. The pony would be purely coincidental.