Nina Freeman's sunset themed game jam produces dates, debts, and dreams
Nightcap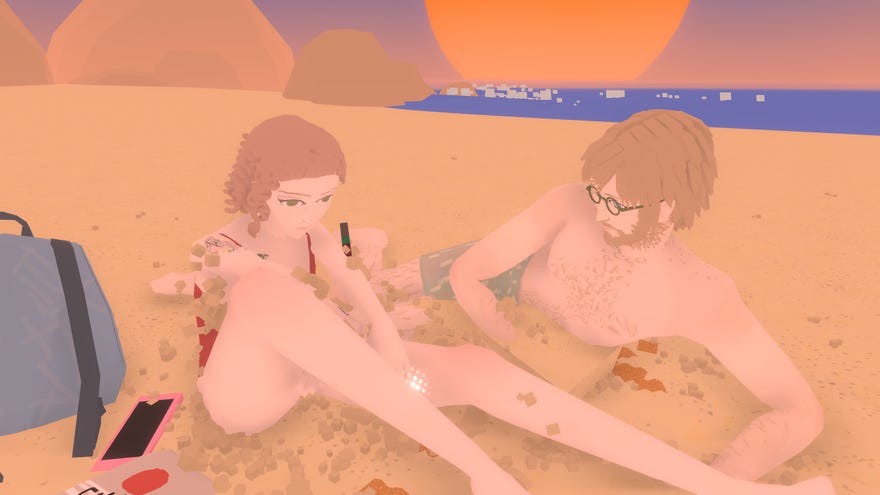 As the dusk draws in, take a minute to poke around at some of the creations from Nina Freeman's sunset-themed game jam, which tasked developers with making "a game that's romantic, nostalgic, spooky, or anything else that has something to do with the day turning to night" in a little under two weeks.
If you've played any of Freeman's earlier games, like the MMO-based teen love story Cibele, it's probably not surprising that her entry to the jam is based on a romantic evening. Beach Date, created together with Jake Jefferies, is about hanging out and throwing sand and wine around while the sun sinks below the horizon. It's goofy, but also sweet, as you can see:
The other entries are worth taking the time for as well. I especially enjoyed Sunsets, a collection of vignettes about different meanings of the word that's often surprising and funny. It's almost certainly the first game that I can say has a good joke involving a shoebill, even though they are in and of themselves extremely funny birds.
The prettiest sunset in Sunset Jam, in my opinion, comes in Meteor Strike! (above), which is an exploration of an esports player's dream. It's very restrictive at first, only allowing you to walk forwards slowly, but when it does open up and you can move more freely it becomes disorienting, with the camera tilted at a shifting angle. But that pink-orange fade is just gorgeous.
You can find the entries to Sunset Jam, available for pay what you want with no minimum, on itch.io.