Souls-like samurai RPG Nioh coming to PC in November
One of Adam's faves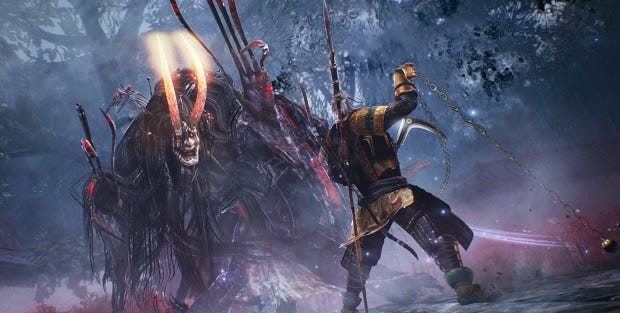 My PS4 is basically a machine for playing off-brand Dark Souls games*. The best of them is Bloodborne, which is a goth-horror masterpiece that came out of the studio that created Souls, From Software. I dearly hope to see it on PC one day. The other is not a From original but rather something of a Fromage. Its name is Nioh [official site] and it's a splendid hack, slash and shoot 'em up that takes the Souls formula of learning and advancing through repetition, and throws in ludicrous amounts of randomly generated loot and gorgeously horrific nightmares plucked from Japanese folklore. I adore it, so news that it is coming to Steam next month is extremely pleasing.
The PC release will be a Complete Edition, with three chunks of DLC included. I haven't touched the DLC but the base game took me nearly a hundred hours to complete, though that is because I am a) rubbish and b) a completionist. Nioh is not a game that anyone can really complete though given how many variations of missions appear, and how the loot system encourages replay after replay to find that one sweet helmet that will really make your outfit hang together.
In my head, it's an honorary Souls game and it's my third favourite of the bunch, right after Dark Souls 1 and Bloodborne. That's partly thanks to the loot system offering something different, and providing great opportunities for costume design, but also because the setting allows for some really gorgeous and grotesque creatures and locations. The combat has a couple of tweaks that make it feel just that little bit quicker. Button-mashing is still going to get you killed, but there's a tactical twitchiness to it. Great boss battles too.
On the PC version publishers Koei Tecmo have this to say:
"The digital-only PC release boasts stunning high-resolution graphics over two modes as Nioh: Complete Edition can be enjoyed either on 'Action Mode', featuring a stable 60fps, or on 'Movie Mode', a cinematic option that can expand the display resolution to 4K. These new enhanced graphical modes bring the dark and beautiful world of Nioh to life like never before."
Nioh is coming to Steam on November 7th. It'll almost certainly end up as a late entry into my top ten of the year unless something goes horribly wrong with the port.
* also baseball