No Man's Sky Soundtrack Details And Taster Track
Godspeed You Black Emperor Does 70s Sci-Fi Does Disco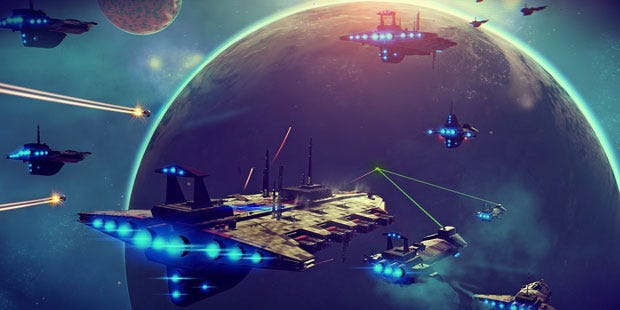 We don't often cover game music news on RPS, because there's always the terrifying risk that it opens the door to more people sending us press releases about their chiptune albums inspired by Zelda. But I'm flexing the informal rule today, partly because No Man's Sky remains so much of an unknown quantity even just two and half months from release, and partly because I really like what I'm hearing of 65daysofstatic's OST so far.
The soundtrack will be released separately as No Man's Sky: Music for an Infinite Universe on June 17th, just before the game's release on June 24. Primarily instrumental UK band 65daysofstatic provide the sounds, and going on first track Supermoon, below, they're going for Godspeed You Black Emperor Does 70s Sci-Fi Does Disco kinda thing. I rather like it.
You may also have heard the somewhat similar Débutante, the track which accompanied NMS' early reveals. Both tracks will be on the soundtrack album, along with eight others and assorted 'soundscapes' - approx. two hours of celestial ear-massaging all told. You see, it isn't simply 'songs' that will constitute the aural aspect of No Man's Sky - 65daysofstatic claim to have provided a large library of sounds to ensure that what you hear will be as randomised as what you see/explore/shoot.
More details plus pre-order links (it's out on CD and Vinyl as well as digital) and tour dates here. As for the game itself, No Man's Sky is launching on June 21st at £40.