Oculus Touch Controllers Delayed Till Later In 2016
Can't touch this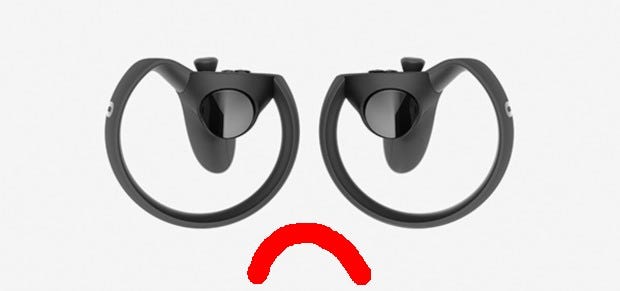 The Oculus Touch has been delayed. Originally planned for release in 'Q2' of 2016, the VR motion controllers are now due to arrive in the back of the year according to an update on the Oculus site. The Rift headset remains on course for release in the first quarter of the year, with pre-orders "launching very soon".
The header image represents my feelings.
Oculus Touch is a set of two motion controllers, with one meant to be held in each hand. They're then tracked in 3D space, allowing you to see representations of your hands in virtual reality, and to reach out and pick up and move objects in a manner similar to your actual hands. Motion control has been a thing for a long time now, but it's especially important for games where your eyes are entirely covered by screens, and where you'd be unable to see the buttons of a 360 controller or similar.
That means it was a shame when Oculus announced last September that the Touch wouldn't arrive at the same time as the Rift, and an even bigger shame that it's arriving even later now.
The reason for the delay is simply that Oculus say they need more time. "On Touch hardware, we've made significant advances in ergonomics, and we're implementing many changes that make Touch even more comfortable, reliable, and natural," says the blog post. "We're also implementing changes that improve hand pose recognition."
Delays happen and developing new hardware takes a long time. Does this put you off buying the Rift though, perhaps in favour of the HTC Vive and its similar motion controllers?