Oh, Canada! Dota 2 International moves venue
Vanc-mover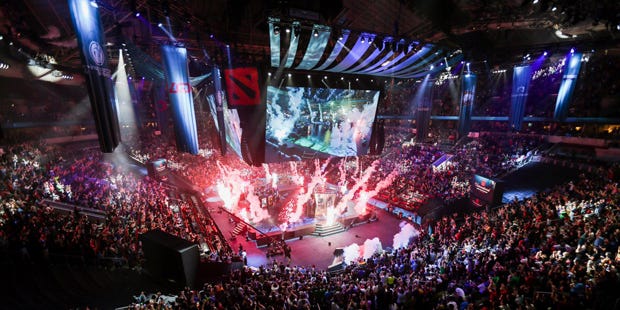 In the period of my life where free time basically equated to Dota time, I'd have loved nothing more than to go the International - especially if it was the one where my friends managed to get themselves trapped in a lift with Blitz. No doubt to avoid a repeat of that incident, Valve are moving this year's main Dota 2 tournament to Canada, where every elevator comes equipped with a button that summons Justin Trudeau himself to sort things out.
So, Seattle is no longer the seat of the largest esport event in the world. Sorry, Seattle.
Here's Valve with the specifics:
"For the first time ever, the battle for the Aegis of Champions will be waged on Canadian soil, as The International Dota 2 Championships invite the world's top Dota teams to face off at Rogers Arena in Vancouver, British Columbia on Monday, August 20th through Saturday, August 25th."
For most parts of the world, ticket sales will open on Friday March 23rd. Tickets for previous Internationals have run out within minutes, so if you're after some you'll want to check the precise time they become available for your locale.
If Vancouver seems too far out in terms of distance or price, then you could think about heading to the ESL One Dota 2 Major in Birmingham instead. It's the first Major to take place in the UK, and will see teams competing for a share of International qualifying points and 1 million US dollars. It'll be held at Arena Birmingham on May 25-27th.
Seen as we're chatting dotes, I have Opinions about the recently launched Dota Plus subscription service. The in-game help provided by the paid-for Plus assistant is relatively minor, and free online tools like this one do similar things. Valve's assistant is obviously much easier to use though, and provides more comprehensive advice that's tailored to each game.
I don't think it's the catastrophe that some people on Reddit are making it out to be, but it is an in-game advantage that you can pay for. A minor one that mainly applies to new players, but an advantage nonetheless. I'm aware I have a really low tolerance for this sort of thing - I thought it was a mistake to introduce cosmetics with altered spell animations, making them just that little bit harder to immediately identify and respond to. I just think Dota would be a better game if it went to every length possible to avoid giving those who pay an edge, no matter how trivial.