Oh Mah Gawd - Out There: Ω Edition
Slower than light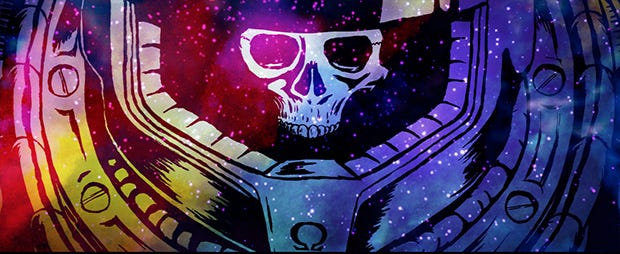 Space exploration adventure/suicide mission Out There was my favourite mobile game of last year. While this may sound like the grandest of statements, please do bear in mind that I only played about four mobile games last year. Even so: Out There was and is brillo. It plays like FTL converted into a tranquil, slightly forlorn gamebook - this is not a game about being disintegrated by alien death rays, but one of trying to stay one step ahead of a slow, sad death lost in space. Exploration and risk-taking are in its bones, and at heart it's a Fighting Fantasy book adorned with solemn, sparse, affecting writing and prettily minimal art. There isn't much to it, but it turns what it does have into offbeat effectiveness.
A PC version has been promised for quite some time, and now it's finally been announced, titled and explained. The expanded Out There: Ω Edition will be with us soon.

This won't be a port of the mobile version, apparently - indeed, the mobile versions are to be upgraded with the new stuff too. Said new stuff being the below new stuff. Gogo magic blockquote tags:
As ruthless as the original, Out There : Ω Edition will offer updated graphics and additional contents.
Players will encounter new alien races, new ships, and a brand new ending.
More than 50 new text adventures, written by FibreTigre, will darken your space odyssey.
Out There : ΩE will provide uncharted planets and environments delivered by a new graphic engine.
Last but not least, Siddhartha Barnhoorn will extend the existing soundtrack with new compositions.
New graphics engine, eh? A big part of me hopes that's just an under-the-hood change, because I'm quite happy with the comic book background-like art in here already. Then again, so far French devs Mi-Clos clearly knew what they were doing, so there's no reason that'll change now.
No release date as yet alas, but I'd be extremely surprised if it wasn't this year. It can already be pre-ordered for $10, it'll be on show at GamesCom next month, and it has a Greenlight page.
Here's a trailer for the original version; sadly no pics or vids for Ω have been released, so I don't have the foggiest whether it'll look much lie the below yet.