Overcooked 2 serving online multiplayer in August
Huzzah!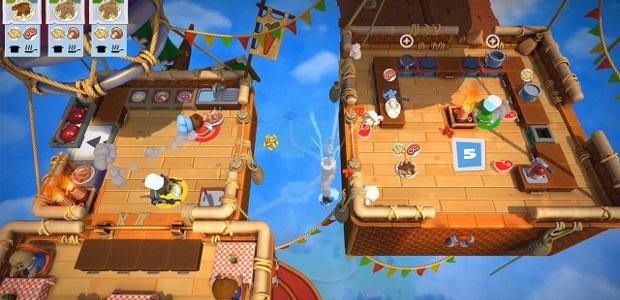 Ghost Town Games will serve more chaotic cooperative cooking action on August 7th with Overcooked 2, following up on 2016's wonderful chef 'em up. Along with more hazardous kitchens and tricky recipes, the sequel will add one often-requested ingredient: online multiplayer. We've declared the first Overcooked one of the the best co-op games and I'm sure this will sure be at its best shouting on the same sofa, but it'll be great to have the option to invite remote friends into your kitchen to try to cook as orders stack up, the kitchen starts moving, and our old friend fire comes calling.
It's the same basic recipe: up to four chefs must scamper around kitchens preparing dishes by following recipes, chopping this ingredient here, boiling that one there, washing crockery in that corner, popping that in the oven at gas mark 4 for twenty minutes, and panicking as oh god part of the kitchen just rotated so the station you need is now over there, and your idiot sous chef is burning the steak, and now everything is on fire.
The sequel will expand that with new recipes, new kitchens, the ability to throw ingredients to other players (that'll be fine, I'm sure), new cooking equipment, and new playable chefs including a beaver and an octopus. Plus online multiplayer, of course.
Overcooked 2 will hit Steam on August 7th, priced at £22/€23/$25. It's published by Team17.
Check out our E3 2018 tag for more announcements, trailers, news, and goodness knows what else.