Parting is such sweet sorrow in Life Is Strange: Before The Storm's bonus final chapter, Farewell, out now
If only I could turn back time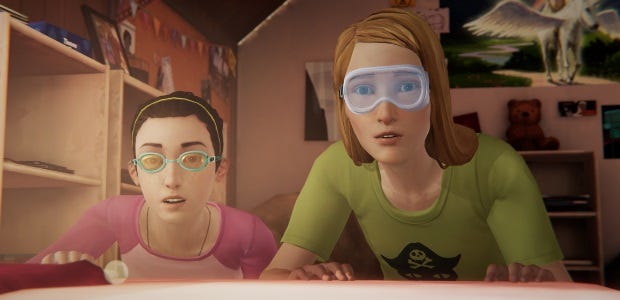 It's time to say goodbye to Chloe and Max again, at least for a while. They've had their ups and down over the course of episodic adventure Life Is Strange and its prequel, and today they're getting a final send-off in one extra episode, out now for owners of the Deluxe edition of Before The Storm.
Expect heartstrings to be tugged on with great gusto. While the stakes may be low this time around, heartbreak seems inevitable as the two childhood friends take one last adorably dorky walk down memory lane before they have to go their separate ways, as Max's family moves away from Arcadia Bay.
Farewell isn't just a tearful, bittersweet goodbye from one friend to another, but marks the end of Deck Nine Games' run with Life Is Strange. The series is officially back in the hands of French studio Dontnod Entertainment, who are currently hard at work on an official sequel, as well as the somewhat grittier and more action-packed Vampyr.
Probably the best thing about Farewell is that it's as much a reunion as a parting. Now that the voice actors strike is resolved, original lead duo Ashly Burch & Hannah Telle are reprising their roles as Chloe and Max. While this may cause a little bit of mental whiplash for those coming fresh off Before The Storm, it should be a pleasant return to form for those who grew to knew these characters in the original game.
Sadly, this bonus chapter is exclusive to the Deluxe Edition of the game. For those left out, you can buy the upgrade for a few quid, which comes with some extra upgrades such as a 'mixtape mode' that allows you to re-score scenes using music picked from the licensed soundtrack of the game, and a handful of alternate outfits for Chloe. All of this will be included in the new boxed edition of the game (physical media? how quaint), due for release on the 9th.
Farewell is out now for anyone with the Deluxe edition of Life Is Strange: Before The Storm. For those without the Deluxe edition, you can pick up the upgrade here.