Party Saboteurs Infiltrates Early Access
Be the spy AND the sniper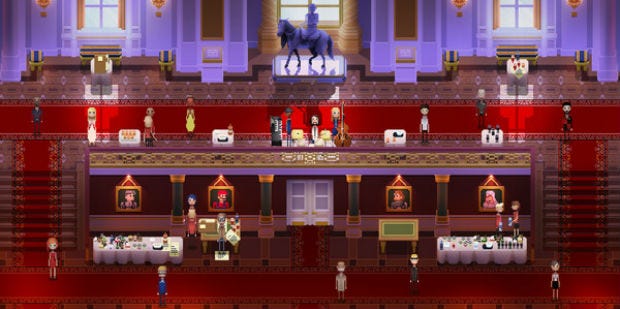 After a brief spell spent lurking in the long cast shadows of Steam's Greenlight initiative, mutliplayer stealth-a-thon Party Saboteurs [official site] has now successfully snuck onto Steam Early Access. Its spy and sniper heritage make it immediately comparable to the likes of Spy Party and Hidden in Plain Sight, however the debut venture from Brazilian outfit The Glitch Factory mixes things up quite a bit by charging players with controlling both the shooter and stalker at the same time.
Which I must admit had me completely flummoxed when first facing off against a mate in local co-op. Using the left and right side of the control pad to steer both my spy and sniper respectively wasn't all too difficult, but doing so while my opposing player navigated their own chaps around the map made things rather tricky. You see, hovering too long over your own sleuths and shooters risks alerting your foes which could in turn blow your cover - yet you'll want to keep a watchful eye on their movements at all times too. The Glitch Factory have spoken before about the strategy behind this mechanic - something which is best exemplified in local multiplayer - and it reminded me of playing mates at FIFA penatly shoot-outs in our younger years, steadfastly shielding our controllers from view in a bid to win.
Success in Party Saboteur, then, is hinged on either locating and killing three enemy spies, or by tracking down three archives without getting caught. Kill innocent party go-ers and risk getting your licence to kill revoked. Here's some of that in practice via the game's latest trailer:
In its current state, Party Saboteurs has two playable modes: a single player Challenge dealio which essentially shows you the ropes while upping the difficulty with each bout in turn; and local multiplayer, where as many as four players can play at once. Technically you could share a pad and push this number up to eight but my mind boggles at the mere thought of it. If you try that yourself, I'd love to know how you get on. Although not confirmed, The Glitch Factory say online multiplayer is "possible" at some point down the line.
Party Saboteurs is out now on Steam Early Access for £6.99/9,99€/$9.99. The developers hope to launch a full release within two months.