Persona 5 Tactica review: middling turn-based strategy built for Persona-likers
An easy excuse
The Persona 5 kids are trapped in high school, their semesters stretched into infinity by the inescapable march of spin-offs that have been retroactively stuffed into every available blank spot. Since the credits rolled on Persona 5 (and also before, and sometimes concurrently), the Phantom Thieves have spent their time in a rubbish Dynasty Warriors knock-off, got lost in a dream about a really cheap rhythm-action game and ended up trapped in a cross-generational dungeon crawler. Now they find themselves embroiled in - of all things - an X-COM style turn-based strategy game.
Your energy for Persona 5 Tactica is going to come down to how much tolerance you have for the Persona 5 brand's Baz Luhrmann-style maximalism. If you're emotionally invested in the gang, it'll definitely help. But even if you're a Persona veteran or a total newcomer, you'll find the story a bit loose, the chats a bit tiring, and the combat a bit simplistic. Then again, if you're a Persona fan, it's still more than a good excuse to sink back into another adventure with your pals.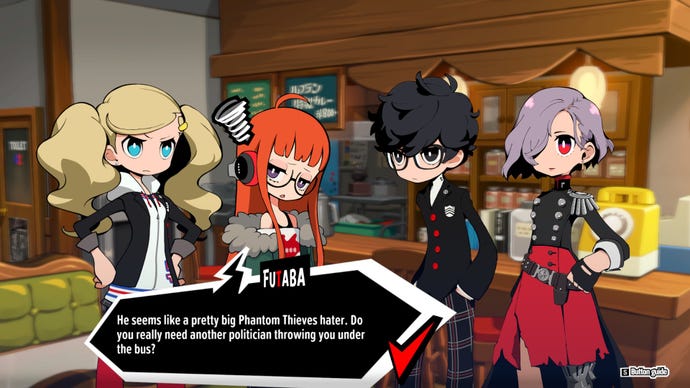 Having been sucked into another spin-off dimension, the Persona 5 gang find themselves pitted against a tyrannical bridezilla who has an entire kingdom quaking under her heel. She proves her worth as a viable threat by domming most of the Phantom Thieves using evil anime magic, slapping a collar on them and placing them under her control. It's a welcome way to slowly reintroduce you to the cast and their respective new abilities as you steadily rescue them, resulting in a satisfying drip-feed as you work your way through the campaign.
The story is complete nonsense, though, and strikes me as a standard mixture of cartoonish fantasy and Japanese political intrigue. Someone espouses the value of never giving up hope within the first hour, in case you were worried that proceedings were ever going to reach any higher than the average saturday morning cartoon. By being placed concurrent to the events of the main game, any real sense of danger or tension goes out the window - immediately revealing that nobody will ever be in any genuine danger, or that anything that happens will be worth being talked about or even remembered by the main cast.
So, if you don't happen to have Persona fever, how does it stand on its own as a turn-based strategy game? Honestly, it would be overly generous to call Persona 5 Tactica a strategy game, as most of the stages are incredibly slight, and are often set-up for one specific approach: enemy soldiers love to stand around their prone comrades, setting themselves up to be wiped out in an all-out attack, that involves nothing more than surrounding them in a triangle formation. It feels more like a puzzle game with simple solutions, designed to enable a steady trickle of endorphins as you identify the 'correct' placements and moves.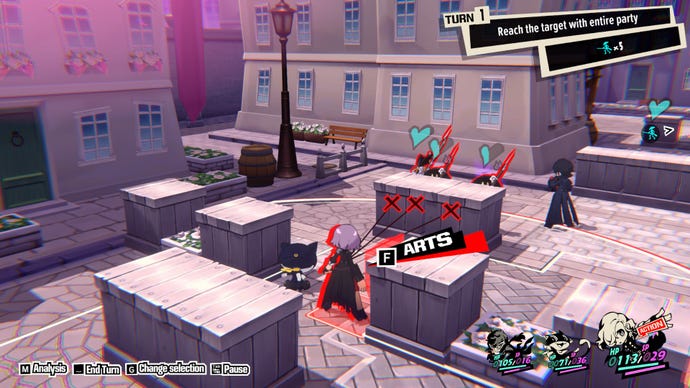 One snappy holdover from the main game's combat is the "One More", which grants you another move if you're able to lower an enemy's defences or defeat them outright - which usually leads to satisfying cascades of actions as you overwhelm the opposition. The same can be done to you of course, if you are somehow ever caught out in the open, which is fleetingly rare given the game's overabundance of invincible cover.
Outside of combat, there is little to do other than chat to your comrades, tinker with their equipment and abilities, or engage with the heavily truncated persona fusion system. Unlike Persona 5, Tactica's persona system limits characters to a single sub-Persona each, which bestows an extra spell or skill buff. Character building in general is also a very minor distraction, with simple character-specific skill trees. You can only have three active party members on the field at any given time, and while they all have certain traits, you'll be able to make it through most battles with even the most poorly thought out team composition.
Similar to how Persona 4: Dancing All Night made you sit through 15 minutes of visual novel for every three minutes spent on a song, the brief skirmishes of Tactica are separated by endless scenes of discussion between blinking portraits on still backgrounds. Most of these boil down to the characters discussing their next plan in excruciating detail: "Is it a good idea?"; "I think it is?"; "What if it isn't?"; "What do you think?"; "Okay so it's a good idea!"; "But what if it isn't?". It's exhausting, and another layer of tedium in a game that already has its fair share. Knowing you have another wall of exposition waiting for you every time you do a few short missions will make you wish there was more to the fights.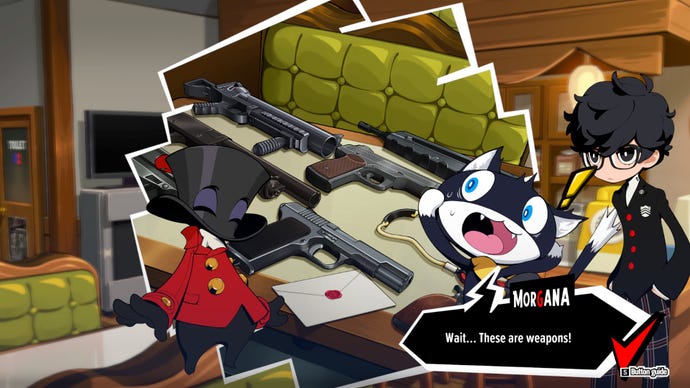 Even diehard fans of the Persona 5 may find this a tough hang, and strategy heads who are perhaps looking for a way into Persona 5 won't find it particularly nourishing either. If you're a turn-based strategy enthusiast, there are dozens of examples with richer tactical depths. If you like JRPGs for their stories, there are hundreds of better written epics out there. If you wanted something that competently merged an unexpected IP with X-COM mechanics, you could play Marvel's Midnight Suns.
Of course, if you consider the talking cat and the computer girl close personal friends then any excuse to spend more time with them is a good excuse, and all of these shortfalls won't matter in the slightest. We're in a world of rapidly depleting and fleeting pleasures, so in the grand scheme of things, an aggressively mid turn-based strategy game is a fairly low price to pay.
---
This review is based on a review build of the game provided by Sega.