Pillows Plumped: Back To Bed Receives Backing
Kickstarted, stopped, restarted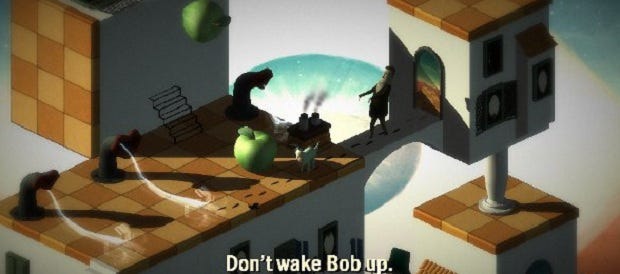 Survival sims might be unnerving conflict machines in this brutal modern era, but I remember a more affable time. Games like Lemmings and Brat placed the player in charge of vulnerable and mindless creatures (lemmings and babies, respectively), unable to control them directly but responsible for their continued existence. Back To Bed is a return to that gentler age, asking the player to protect a hapless sleepwalker in a strange world. Since we last looked, outside investment has allowed the student team to form a studio and they will now complete the game and begin work on its spiritual successor.
The Unity-driven prototype is still available to play online but the final release will be significantly improved. The storyline will be improved and the art will be hand-drawn, which may actually detract from the Little Big Adventure vibe.
Back To Bed was successfully Kickstarted but the funds raised were only sufficient to allow for continued part time development. Now, with the support of Limbo and Space Hulk backers Capnova, the team of six are working full-time on the project and have sufficient cash to begin work on a follow-up once the game is released.
Last time we posted this, several people took to the comments to point out similarities to Sleepwalker, one of the Amiga's most frustrating games. I just watched a playthrough of the worst sections to remind myself how tedious it was. There was a time when I only owned three or four games, and Sleepwalker was one of them, so I endured it to the bitter end. Between the repetitive brick background layers, the BOING sound effect and the stupid kid's inability to turn around even if a dog is punching him in the face, it drove me to madness.
Via Polygon.