Pixel Junk: Nom Nom Galaxy Is A Destructible Soup Empire
Souper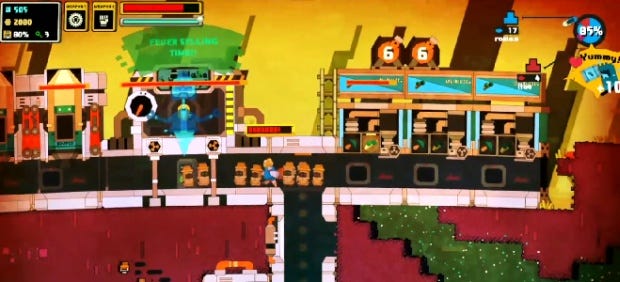 PixelJunk creators Q-Games seem to be slowly realising their love for the PC. After a while of the PJ games dragging their heels to reach Freedom, their latest is appearing on PC before anything else. Well done - this is Correct. And that latest is Nom Nom Galaxy - a very Terraria-looking platform bizarreness, about making soup. Yes Cara, soup. It's on Steam Early Access from today.
In a really, honestly, dreadful trailer, between extended sequences of the developers arsing around for uniquely their own entertainment, you can find the odd clips of what looks like a very intriguing game. (However, they do appear to genuinely put a PS3 in boiling water, and there's something to be said for that.)
)
They say the game is currently a "buggy mess", but they promise improvements soon. It's certainly an novel concept - destructible world meets running soup empire. They're doing a Kickstarter-styled sales pitch for it, with Early Access access at $9, and then tiers above that reaching all the way to $10,000.