Planetfall: Layoffs At Everquest/H1Z1/Planetside Dev
EQ boss and community manager gone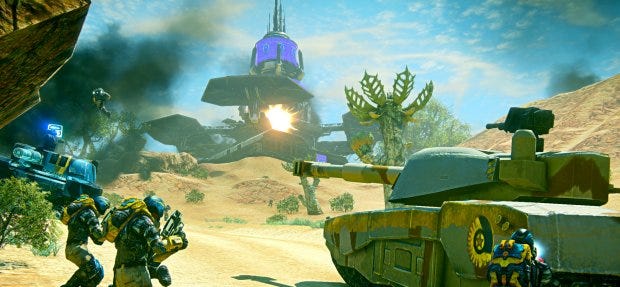 A name change to the awkward-sounding'Daybreak Game Company' isn't the only consequence Sony's recent shock sale of its MMOy division SOE to management firm Columbus Nova. Barely more than a week after the acquisition, Daybreak is making lay-offs, reportedly including the long-time lead and public face of the Everquest games. "The operation of current games" won't be affected apparently, so while this is sad news at least we needn't panic that someone's going to take Planetside 2 or H1Z1 away from us.

Kotaku carried the news last night, initially from anonymous insider sources, but not much later Daybreak made an official announcement:
"As part of a strategic decision to rationalize the business, Daybreak Game Company announced today that it will eliminate positions in both its San Diego and Austin studios. This alignment of resources better positions the newly independent studio for future growth opportunities and developments, including delivering on its legacy of making top online games and establishing a solid foundation for future multi-platform success. These reductions will not affect the operation of current games and the company will continue on its mission to partner with its player community to drive the future and push the boundaries of online gaming."
RATIONALIZE
BUSINESS
ELIMINATE
ALIGNMENT
GROWTH
DELIVERING
FOUNDATION
OPERATION
DRIVE
BOUNDARIES
What a funny way to say "look, this really sucks, and we're really sorry that we've made life so difficult for a bunch of people who wound up working for a completely different company through no fault of their own, but we had to do it because by God all this is terrifyingly expensive. We'll do all we can to make it right, and we'll take care of our fans too."
Business is business, and business is heartless. This stuff happens all the time, and it is sad. Realistically it's not going to affect the Daybreak games we play, at least not for a while, but it's a shame that what could have been an independence song so quickly became pruning. Especially given the newly-remonikered Daybreak had declared at the time of the acquisition that they'd have "we expect to have even more resources available to us." Acquisitions so rarely seem to go that way.
Details on exactly who's gone and from where are still unclear, though among their number are two of SOE's most public faces, veteran Everquest producer & franchise lead David Georgeson and long-time community relations boss Linda Carlson.
Best of luck to all affected.