Plant Tycoon And Depression: Getting Better
In-between gaming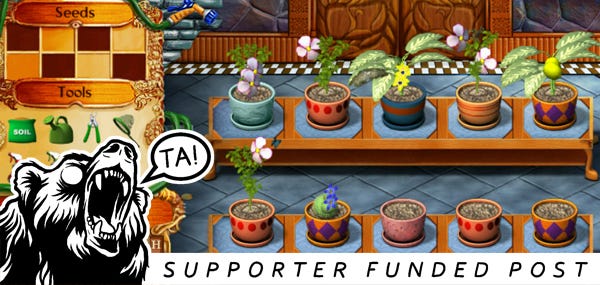 I spent part of the weekend with Plant Tycoon [official site] open. I was playing Destiny and checking back between rounds of a PvP event to see which plants had sold and which had bloomed.
The plants take a while to mature and in the meantime all you can do is watch them, maybe picking up the bug catching net a few times to swipe at the insects in order to add them to your collection. That's why I like having Plant Tycoon open while I work or while I play rounds of another game.
Sometimes I fall into the trap of watching and waiting, whiling away the time as I keep too much of a close eye on my plants. I hate those times because I walk away from them feeling like I've wasted part of my life.
Read the rest of this article with an RPS Premium subscription
To view this article you'll need to have a Premium subscription. Sign up today for access to more supporter-only articles, an ad-free reading experience, free gifts, and game discounts. Your support helps us create more great writing about PC games.
See more information