Play Five Games On The HTC Vive At EGX Rezzed 2016
April 7th-9th in London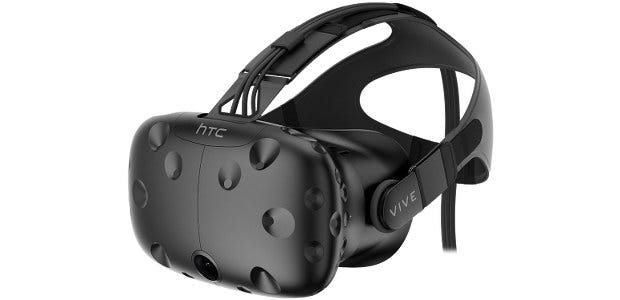 I was pretty certain after I first tried it that I'd be first in line to buy an HTC Vive. Then I saw the price. It's not higher than I expected, it's just that the money means more to me now than it did early last year. If you're similarly hesitant or dead-set against, you might want to try out the Vive first to see how it feels.
Good news! You can do so at this year's EGX Rezzed in April.
The Vive will be at Rezzed with five games. From the release:
Arizona Sunshine is a post-apocalyptic FPS built and optimised for room-scale virtual reality. Players must bash, slash and explode their way through hordes of zombies close enough to touch.

Fantastic Contraption has been designed from the ground up for room-scale VR. Players can walk around a beautifully realised grassy island in the sky, building huge machines with their own hands and watching them come to life.

Tilt Brush lets players paint in 3D space with virtual reality. Your room is your canvas. Your palette is your imagination. The possibilities are endless.

Job Simulator already has numerous award nominations to its name and was described by Rock, Paper, Shotgun's Graham Smith as "the best game I played" [on Vive]. In a world where robots have replaced all human jobs, Job Simulator teaches players what it was like 'to job'.

TheBluVR is an immersive underwater shipwreck experience. Experience the awe, wonder, and majesty of the ocean through numerous encounters including coming face-to-face with an 80-foot blue whale.
Tilt Brush, Job Simulator, and TheBluVR were all excellent when I played them at GDC 2015 last March. TheBluVR, in particular, is a pretty compelling demonstration of the power of virtual reality, delivered in the space of about three or four minutes. It made me want to cry.
Wherever I've seen virtual reality headsets at other conferences, there's always been huge lines. As a result, Rezzed has a booking system for attendees who want to try out the Vive, which you can enter by visiting the NVIDIA and HTC Booth on the day.
EGX Rezzed 2016 takes place at Tobacco Dock in London on the Thursday 7th to Saturday 9th of April and tickets are available to purchase now from now. We're going to be there, with our own room of games, plus developer sessions and an evening mixer where you can rub shoulders with famous RPS writers.