Point 'n' Click 'n' Laugh 'n' Kickstart: Paradigm
Dystopian comedy in an adventure game shell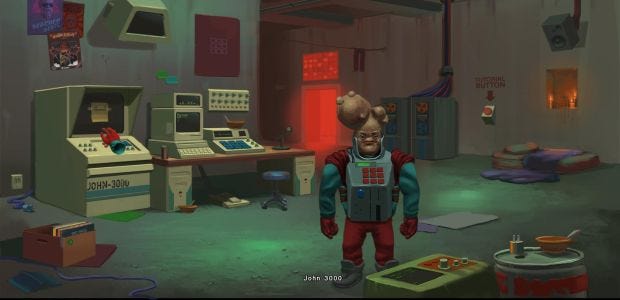 Paradigm and its demo brought the LucasArts adventure classics to mind immediately. It's got its own strange world, set in a '70s vision of the future with massive computers and chunky machinery the backdrop to a dystopian, mutated landscape. The titular main character is a genetic experiment gone wrong. Supposed to be the perfect child, he instead came out as "the ugliest protagonist in gaming." Likely the mildest of the cast, he's joined by a computer addicted to Internet chatrooms, a beatboxing egg plant and a drug-addled astronaut. It's the wacky work of solo dev Jacob Janerka, who's taken it to Kickstarter looking for $14,000 Australian (~£8,000).
Objective recommendations about humour are impossible but the Paradigm demo worked for me, mature/juvenile (delete as appropriate) as it was. For the first time in years I actually wanted to click on everything and discover the rejection lines for trying to "use" characters or "talk to" inanimate objects. It has as many self-aware jokes about being inside a video game or the LucasArts inspirations as it does based on the world itself, which keeps it fresh. The funnies go beyond the dialogue too, comedy scattered throughout the setting--a matryoshka doll gag involving mailboxes and the specially-written songs being highlights.
The art is fantastic, capturing the exaggerated style of '90s adventure games and the bright colours of 70s sci-fi. Bringing both into the HD era is an impressive feat itself, particularly for just one guy. It also compliments the genre, meaning there's little pixel-hunting or visual confusion.
The money's to go towards better music and voice acting, since Jacob's capable of supporting himself through freelance work and a weekend job, hence the lowish funding goal. He will work on it full time if he raises enough money, but that would involve more than doubling his goal.
The Kickstarter has a few early bird get-the-games pledges at $10 AUD (£5.75) left at time of writing, but normally it'll be $15 (£8.62). July 15th's the delivery date, and here's the Greenlight page for trying to get it on Steam.