Poker Night At The Inventory TF2 Rewards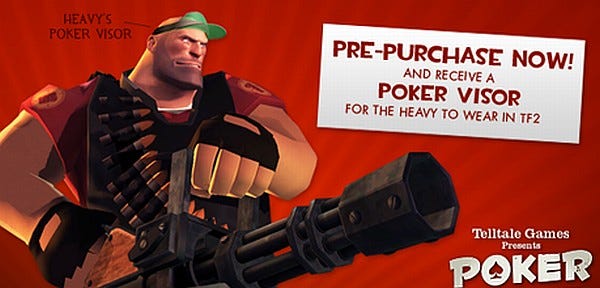 EDIT: The first trailer's out! Watch below.
Do you care about Poker Night At The Inventory, Telltale's upcoming cheapo comedy poker game featuring Strong Bad, Tycho from Penny Arcade, Max from Sam & Max and TF2's Heavy? Not so much? What about... now:
Valve has revealed the five equippable TF2 items you'll be able to unlock playing Poker Night At The Inventory, plus the Poker Visor you get if you pre-order, making this the first time a non-Valve game has unlocked content for TF2 which affects the game proper. You can peruse these goods after the jump.

* The Enthusiast's Timepiece - Tycho's favorite timepiece (equippable by the Spy)

* License to Maim - Max's Badge (equippable by all classes)

* The Lugermorph - A second chance at Max's personal armament (equippable by the Scout and the Engineer)

* The Iron Curtain - The Heavy's first love (equippable by the Heavy, obviously)

* Dangeresque, Too? - Strong Bad's styling glasses (equippable by the Demoman)
Bam. You can read Valve's blog post on the subject here, and thanks to RPS reader Liro for the tipoff. Oh, wow. I just remembered the two years I spent playing Liero, my friends and I trash-talking and laughing for the entire duration of every match. What a classic.
And while we're on the subject of Poker Night at the Inventory, the first non-teaser trailer hit YouTube yesterday. Here it is: