PopCap Unveils Zuma's Revenge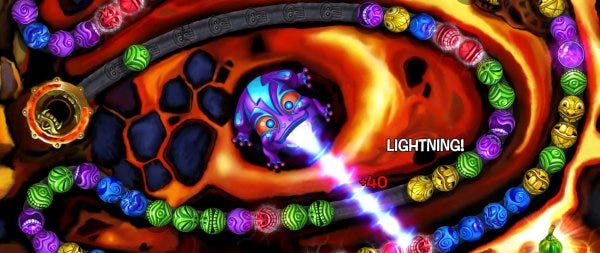 PopCap have just released the chains holding us back from letting you know they've a new game on the way. A follow up to Zuma, called Zuma's Revenge, it's a reinvention of the frog-spitting ball-matching puzzler that PopCap say has lots of new bits and bobs in fancy new graphics. New modes, new mechanics and new power-ups. Possibly new contention from Puzzloop fans. The original sold an incredible 17 million, which by our calculations means everyone at PopCap is carried to work on golden thrones, where they spend their days playing real-life games of Bejeweled with real-life jewels, which they then stuff down their pants while laughing. Video and full press release for the new game below.
PopCap Games, the leading developer and publisher of casual games, today announced that Zuma's Revenge!™, the sequel to the original hit game that has sold 17 million copies worldwide, will be available next month for the PC and Macintosh. Zuma's Revenge! reinvents the ball-blasting bliss of the original Zuma® with high-resolution graphics, wild new game mechanics, all-new modes and power-ups and much more. Zuma's Revenge! will be available on September 15 at retail (U.S., PC only) and via download at PopCap.com and key portal partners (PC and Mac). Beginning today, video sneak peeks and other advance information about the new game can be found on PopCap.com.

"The original Zuma has millions of fans around the world," said Jason Kapalka, co-founder and Creative Director at PopCap, "so there was a lot of pressure when doing the sequel to really deliver something they'd love, without wrecking the classic Zuma gameplay. Zuma's Revenge! adds a ton of variety to the mix, with over 60 new maps, all new power-up balls like the Laser Frog and Lightning Color Nuke, and a half dozen custom 'boss battles' against giant, evil tiki spirits. Plus we've added several new modes, including a speedy 'blitz'-style challenge game and the fearsome Iron Frog gauntlet for the most elite players."

In Zuma the player takes the role of a fearless ball-shooting frog, exploring ancient temples and ruins. By firing colored spheres into an advancing chain of balls to make matches of three or more, the frog blasts his way through a series of arcade challenges. The sequel brings the player to an all-new setting, the Polynesian paradise of Zhaka Mu, and ups the ante with nearly triple the screen resolution of the original game, cool 3-D particle effects, and support for widescreen monitors. A full list of new features in Zuma's Revenge! will be available at launch.

Rick Fortin, whose score of 3,384,820 (with 34 extra lives!) in the original Zuma is the highest known, has been beta testing Zuma's Revenge! and feels the new game lives up to the high standards of the franchise. "From the spectacular visuals and 3-D effects – which work great even on an older PC like mine – to the new game modes such as the maddening (but beatable!) Iron Frog, PopCap has actually improved the game in every respect. I have to say that the wait was well worth it for this game. It's all that I expected and much more!"