ProcJam funding drive offers mystery proc-gen project mixtape to backers
Generating funds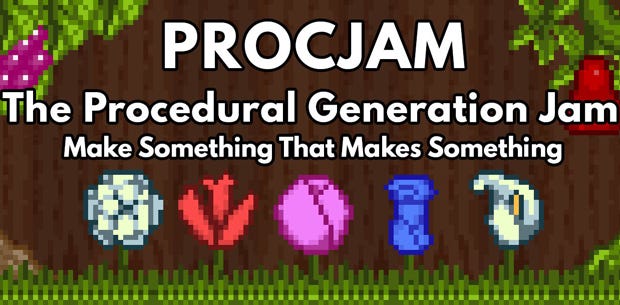 The procedural generation game jam, ProcJam is seeking funding to help provide participants with a whole host of extra resources, from art assets to tutorials. ProcJam is organised by Michael Cook. Cook is a fascinating person and I first met him to talk about the software he is working on called Angelina which makes its own games.
That in itself is super interesting but he is also working on his own game projects, doing a PhD and trying to expand ProcJam to help people who want to join in but lack particular resources. The latter is, as I say, why he is seeking £2,000 ProcJam funding over on Kickstarter. I was curious anyway, but the idea of a proc-gen themed mixtape will likely push me over the edge and into a pledge...
As per the pitch:
"PROCJAM is more than just a jam - we're trying to help grow the generative software community, to introduce people to new ideas, to create resources to help people learn, and to organise communication channels to let people share their ideas. In the past we've been lucky enough to get funding to help with these things, but this year we want to try a new experiment in making PROCJAM sustainable - we want your help to fund this year's event!"
The funding would thus go towards hiring an artist to create a new Creative Commons-licensed art pack designed for use in generative projects, paying an editor for the event's zine, video coverage for each person's entry, tutorial creation and so on.
To be honest, the pitch had me at the word "zine". Zines are those very nineties homebrew publications which were a part of fan culture. Friends would handwrite or collage all of these pages then run off copies with varying degrees of photocopier mastery and an enthusiastic rejection of normal stapling conventions for sale to other friends. But they were often an enthusiast press within an enthusiast press and would bubble with ideas and excitement (as well as glitter and Sylvia Plath quotations in the case of the Manic Street Preacher zines). I suspect the Proc Jam zine will be a slightly more polished affair but it's a zine and therefore I am INTERESTED.
There is also a mixtape of projects from cool and interesting people whose work I follow because of being cool and interesting. HOLLER for Katie Rose Pipkin's moth generator! It also involves Kate Compton, Strangethink, Tom Betts and others!
The Kickstarter has already reached its modest £2,000 goal but the work ProcJam has promoted and continues to highlight (especially through its excellent program of talks) means I still want to highlight the event to people. Here are some of the games we loved from ProcJam 2016, ProcJam 2015 and ProcJam 2014. The funding drive itself closes on 1 July.
Disclosure: Emily Short is mentioned as one of the contributors to the Generative Mixtape. She was our regular Interactive Fiction correspondent and, to be honest, I wanted to use this disclaimer to push people to read the IF Only collection of articles if you have a free moment! One of the existing art packs was created by Marsh Davies who you may also know from the Fail Forward series which is also excellent!